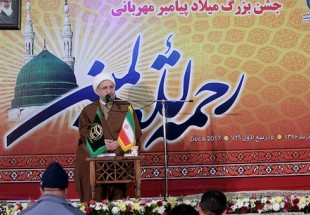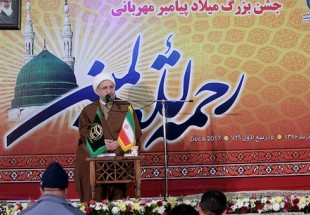 Addressing the Festival of "Muhammad, Prophet of Kindness (PBUH)",  in which religious poems were recited in the honor of Prophet Muhammad (PBUH), Secretary general of the World Forum for Proximity of the Islamic Schools of Thought, Ayatollah Mohsen Araki touched upon the ideal model can be taken by Muslim nations, in particular Muslim Youth, reported Taqrib News Agency (TNA).
President of Iran top unity center congradulated Muslim from all sects and denominations on the birth anniversary of Prophet Muhammad (PBUH) and Imam Sadeq (PBUH).
The religious cleric urged Muslim Nations to draw their children's attention to the lifestyle of Prophet Muhammad (PBUH) warning sternly of the fallouts of turning a blind eye to Islamic principles and instead adopting western culture.
The religious thinker hailed the leading roles played by the late founder of Islamic Revolution, Imam Khomeinei (RA), Supreme Leader, Ayatollah Seyyed Ali Khamenei and the fallen soldier, Martyr Hojjaji in shaing pure Islamic-Iranian culture.
President of Iran top unity center believes enemies attempt for controlling Muslim nations will be in vail, if Muslims do not let enemies distance them from the Prophet (PBUH).
Attended by religious thinkers and clerics, the Festival of "Muhammad, Prophet of Kindness (PBUH)" was mounted by the cooperation of teh World Forum for Proximity of the Islamic Schools of Thoughts