16 February 2019 - Saturday - 11 Jumada al-Thani 1440 |
15/02/2019
(26)
14/02/2019
(26)
13/02/2019
(20)
12/02/2019
(1)
11/02/2019
(1) Total:
147,831
content
Warren tours child detention center: 'It's a disturbing picture'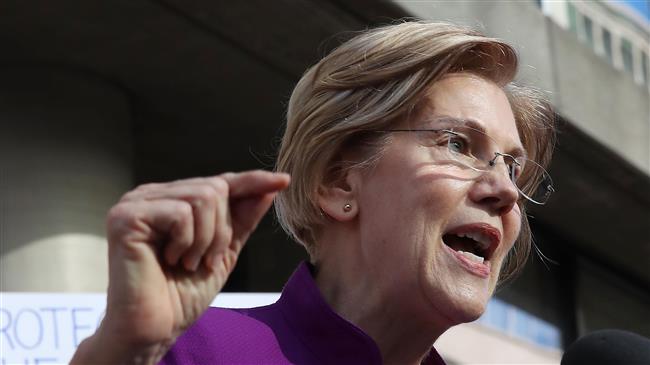 US Senator Elizabeth Warren has said that President Donald Trump's child detention centers present a "disturbing picture."
"It's a disturbing picture. There are children by themselves. I saw a six-month-old baby, little girls, little boys," Warren told reporters on Sunday after touring an immigration center where undocumented families have been separated by US border agents.
"There are mothers with their babies, with small children. Family units are together if it's a very small child, but little girls who are 12 years old are taken away from the rest of their families and held separately. Or little boys," she continued. "They're all lying on concrete floors in cages. There's just no other way to describe it."
Warren is one of the latest Democratic lawmakers to visit an immigration detention center. Several Democrats, including Sen. Jeff Merkley (D-Ore.), toured detention centers earlier this week and shared similar experiences with the public.
Warren's comments come as the Trump administration faces backlash for its handling of migrants crossing the US border.
In cities across the US demonstrations are being held to demand the Trump administration to reunite the undocumented families.
Heartbreaking images and audio of children separated from their parents and crying for their loved ones while being held in chain-link fence cages have stocked outrage across the political spectrum in the United States and abroad.
The Trump administration announced plans in April to prosecute all immigrants caught along the southwest border with illegally entering the country. Parents were jailed and children taken to government-contracted shelters.
More than 2,300 children were taken from their families in recent weeks under a Trump administration "zero tolerance" policy in which people entering the US illegally face being prosecuted.
Parents and children were being detained separately. But after public outcry, Trump on Wednesday ordered that they be brought back together.
Now, the administration says it will continue with prosecutions and seek to detain families together during their immigration proceedings.
About 9,000 such family units have been caught in each of the last three months, according to US border authorities.
Immigrant children are being routinely and forcibly given a range of psychotropic drugs at US government-funded youth shelters to manage their trauma, according to a lawsuit.
The US government said Saturday it still had 2,053 children in its custody who were separated from their parents.
The Department of Homeland Security said it had a "well coordinated" process in place – in the face of criticism from lawyers for parents and children who have said they have seen little evidence of an organized system.
A total of 522 children had already been reunited with parents, the agency said in a statement.
'Pentagon preparing temporary migrant camps'
Meanwhile, US Defense Secretary James Mattis told reporters on Sunday the Pentagon was preparing temporary shelters for migrants on two military bases.
"The details are being worked out … about exactly how much capacity they need at the two bases, what other kinds of facilities they need built," Mattis said on board a flight to Alaska.
However, he did not provide more details, including the names of the bases, where the Pentagon was planning to establish these shelters.

Scroll Up