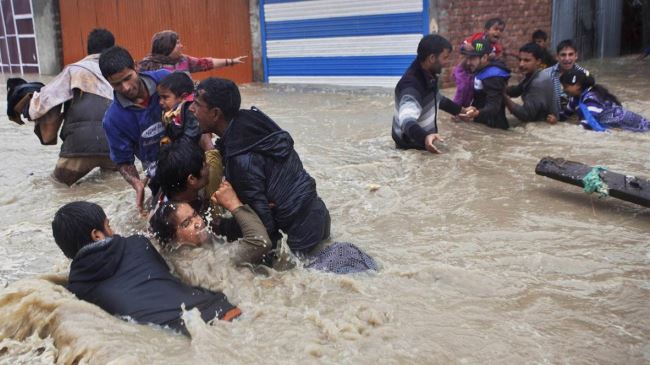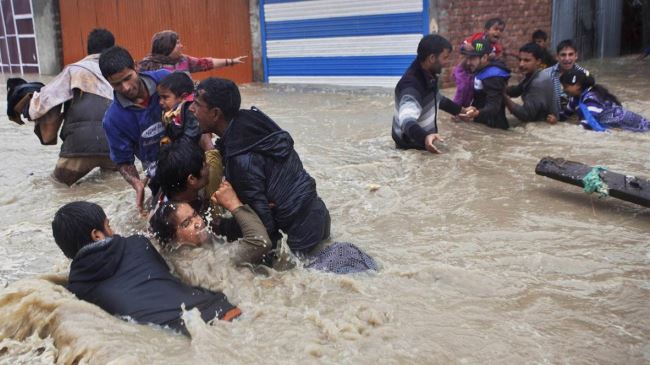 Hundreds of thousands of people are fleeing their homes in Pakistan and Indian-administered Kashmir amid some of the worst flooding in the region in decades.
On Wednesday, authorities warned hundreds of thousands to evacuate the inundated parts of disputed Kashmir region.
Rescue workers say they are now focusing efforts on helping women, children and disabled people first.
Pakistani and Indian troops have been using boats and helicopters to drop food supplies to stranded families and evacuate victims.
More than 1.5 million people have been affected, with thousands losing their homes due to the rising water.
Pakistani and Indian troops say they have evacuated nearly 75,000 people.
The death toll from monsoon rains in Pakistan and neighboring India has already jumped to nearly 460 people.
The flooding began earlier this month in Kashmir, where it has caused landslides and submerged much of the main city of Srinagar on the Indian-controlled side.
The rains have washed away houses, bridges, communication equipment and crops.
The floods are the worst to hit Pakistan since 2010, when some 1,700 people died.
The Indian and Pakistani prime ministers have already visited some of the flood-stricken areas ordering authorities to speed up relief and rescue operations.