Palestine
1000s in Gaza remain without shelter amid brutal cold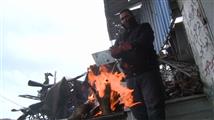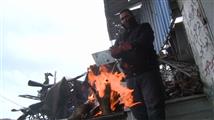 The survivors of the latest Israeli war on the Gaza Strip are left without proper shelter and electricity as a brutal winter storm hits the blockaded Palestinian enclave.
The harsh winter weather has aggravated the sufferings of war-ravaged Gazans, who are now living by candlelight and relying on sandbags to protect their already damaged homes against heavy downpours and flooding.
On Wednesday, freezing rain and gale-force winds battered Gaza, where tens of thousands of homes were destroyed or damaged in the Israeli regime's military offensive last summer.
Hundreds of Palestinians in the Gaza Strip have been forced to leave their homes which were heavily flooded by the storm called "Huda."
Raed al-Dahshan, the head of Gaza's civil defense, said his staff is dealing with "a difficult situation which was compounded by a lack of infrastructure" to provide aid to the Gazans suffering from the storm.
This is while the only power plant in Gaza, which is grappling with a severe fuel shortage, can supply only six hours of electricity to the densely-inhabited Palestinian territory.
Near-freezing temperatures are also wreaking havoc on Gaza's economy, with farmers fearing that the bitter cold could damage crops.
Israel unleashed aerial attacks on Gaza in early July and later expanded its military campaign with a ground invasion of the Palestinian coastal enclave.
Over 2,140 Palestinians, including 577 children, were killed in the Israeli onslaught. Over 11,100 others, including 3,374 children, 2,088 women and 410 elderly people, were also injured.
Gaza has been blockaded since 2007, causing a decline in the standard of living, unprecedented levels of unemployment, and unrelenting poverty.