Latin America
1000s of Hondurans call for president's resignation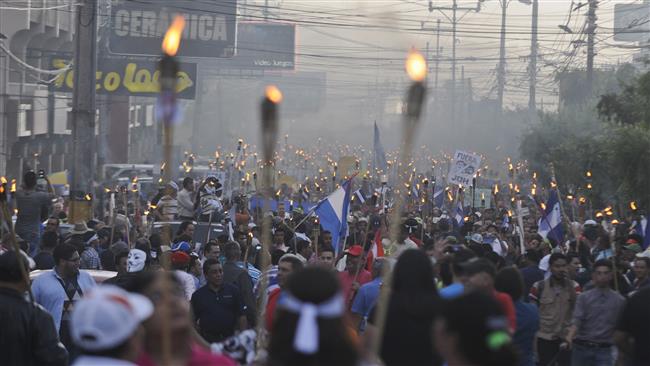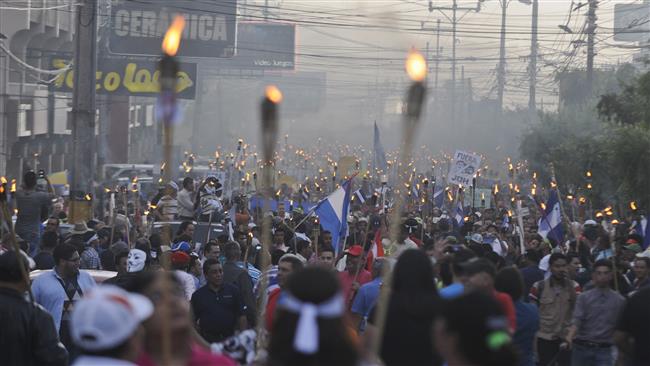 Thousands of Hondurans have taken to the streets of the capital, Tegucigalpa, to call on President Juan Orlando Hernandez to quit over an  alleged corruption scandal in his election campaign.
Activists said 30,000 people turned out on Friday for the fourth weekly demonstration in a row and marched toward the Honduran prosecutor's office.
Chanting "JOH out!" — referring to the president's initials — protesters were holding torches, flags and signs, with one of them reading, "If media do not speak, we will give the details."
"We are here because we are outraged," AFP quoted Rafael Alegria, an opposition member of the National Congress of Honduras, as saying.
Weekly rallies kicked off on May 30 in the wake of accusations that during the 2013 campaign, Hernandez' ruling National Party received about USD 90 million of over USD300 million that had been skimmed from the country' public health system.
The president, who has denied any wrongdoing, played down the graft scandal and pledged to punish anyone found guilty of misusing funds, emphasizing that investigators would "get to the bottom of all of this."
Earlier this week, prosecutors charged Congress Vice President Lena Gutierrez with fraud, falsification of documents and crimes against public health as part of a probe into the corruption scandal.
Over the past month, people have staged similar demonstrations in several cities across the Central American country, demanding the resignation of the president as well as several Honduran prosecutors for failing to conduct a proper investigation into the case.