India
1000s of Indians stage protest over Sheikh Nimr's execution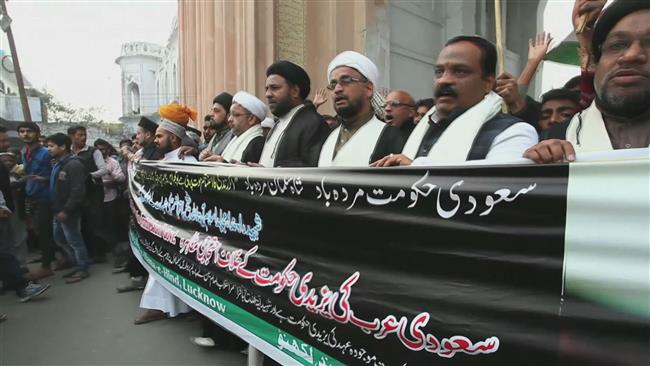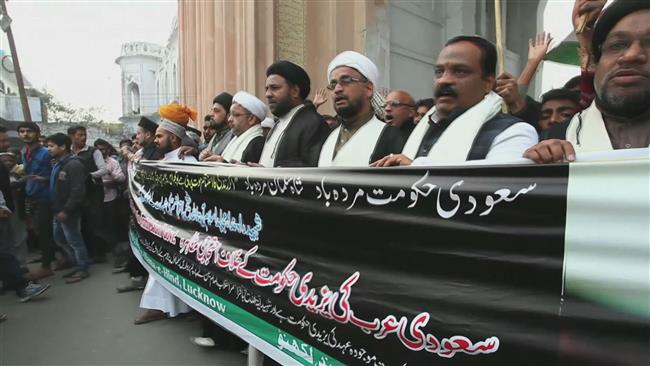 Thousands of people have taken to the streets in the northern Indian city of Lucknow to express their outrage over the recent execution of a prominent Shia cleric in Saudi Arabia.
Carrying placards with photos of the cleric, Sheikh Nimr al-Nimr, the protesters chanted slogans against the Saudi regime and its main supporters, the United States and Israel, on Monday.
It was the second day of protests in Lucknow, the capital city of the state of Uttar Pradesh, after a candle-lit rally and vigil was held on Sunday night.
Saudi Arabia announced the execution of Sheikh Nimr and 46 others on Saturday, in defiance of international calls for the release of the Shia cleric and other jailed political activists in the kingdom.
Sheikh Nimr's execution has drawn strong condemnations from governments and human rights groups all over the world.
On Sunday, a massive protest rally was held in Srinagar, the summer capital of Indian-controlled Kashmir. The protesters condemned the Al Saud royal family and carried placards that read, "Down with the Al Saud."
An outspoken critic of Riyadh's policies, Nimr had been shot and arrested by the Saudi police in the Qatif region of the kingdom's Shia-dominated Eastern Province in 2012.
He was charged with instigating unrest and undermining the kingdom's security. He had rejected all the charges as baseless.
In 2014, a Saudi court sentenced the clergyman to death, provoking widespread global condemnations. The sentence was upheld last March by the Saudi appeals court.