Europe
1000s of protesters rally in Ukraine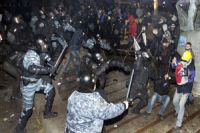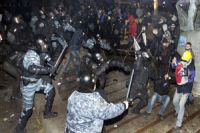 Thousands of anti-government protesters have staged a demonstration in Ukraine's capital city Kiev to condemn the crackdown in the country.
On Sunday, at least 5000 protesters rallied at Kiev's Independence Square, known locally as the Maidan, reviving a string of anti-government demonstrations that began in November 2013.
Vitaly Klitschko, an opposition leader and former world heavyweight boxing champion called on Ukrainians across the country to continue street and other protests.
This comes after Ukraine's leading opposition figure and former interior minister Yuriy Lutsenko was injured in clashes between protesters and the country's riot police outside a courthouse in Kiev in the early hours of Saturday.
Ukraine has been rocked with anti-government protests after President Victor Yanukovych refrained from signing a trade agreement with the European Union at the third Eastern Partnership Summit in the Lithuanian capital, Vilnius, on November 29, 2013.