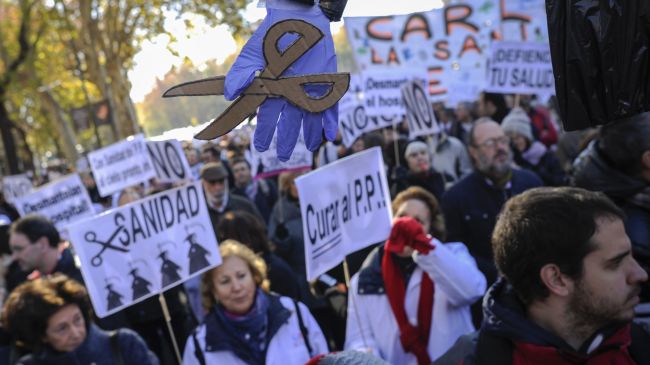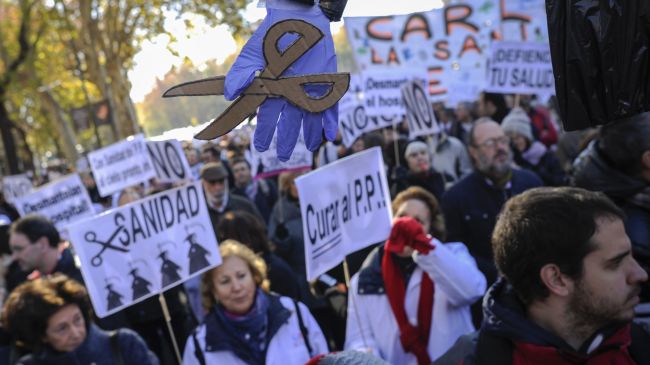 Thousand of Spanish public health workers have demonstrated in Madrid to protest against austerity measures imposed on their sector by the Prime Minster Mariano Rajoy's conservative government.
The demonstration was staged in front of the regional parliament in the capital to protest planned cuts to the health budget, AFP reported.
The protesters also condemned the regional government's plans to restructure and part-privatize the sector.
Madrid's regional government plans to privatize six hospitals and 27 health centers of the 270 in the region, insisting that the plan is necessary for the region to meet its tough deficit targets.
Spain's health sector has been hit hard by the austerity policies introduced by the right-wing government, which is trying to bring down the country's fiscal deficit to more manageable levels.
The eurozone's fourth-largest economy must lower the deficit to 6.3 percent in 2012, 4.5 percent in 2013, and 2.8 percent in 2014. Economists, however, say those targets will be difficult to meet amid poor prospects for the country's economic recovery.
Battered by the global financial downturn, the Spanish economy collapsed into recession in the second half of 2008, taking with it millions of jobs.