Latin America
1000s rally in Brazil to demand president's impeachment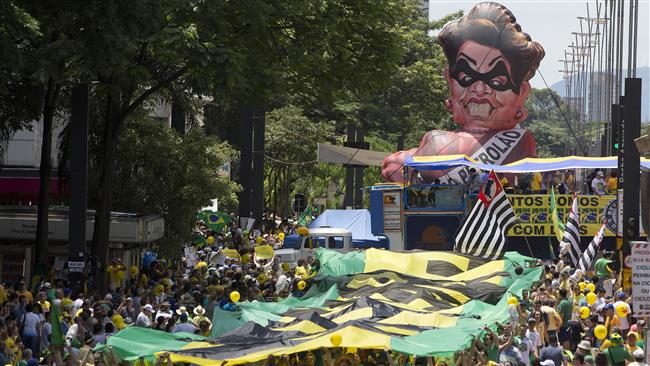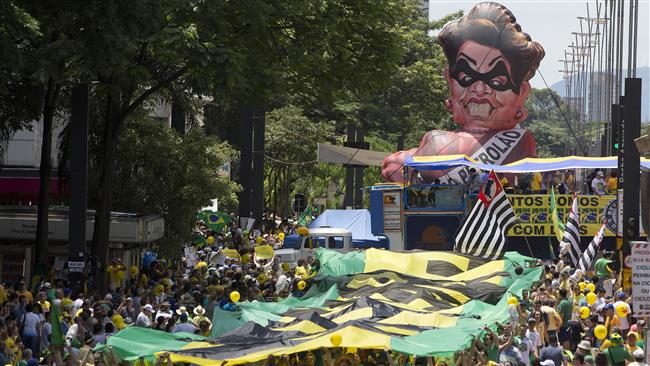 Thousands of protesters have taken to the streets across Brazil to call for the ouster of President Dilma Rousseff, who is facing impeachment.
The rallies were staged on Sunday in nearly 40 cities, including the capital, Brasilia, and the South American country's wealthy industrial and financial hub Sao Paulo where about 30,000 reportedly participated in the protest.
Brazilian media said around 81,000 had taken to the streets across the country while the organizers of the protest put the nationwide turnout at 385,000.
Rousseff stands accused of violating budget laws to push up spending during her 2014 re-election campaign. Impeachment proceedings against her were opened on December 2 by Lower House Speaker Eduardo Cunha. However, she denies the allegations and terms attempts to bring her government down a "coup.
This is while Brazilians are mostly angry about the country's economic woes as Brazil is experiencing its worst economic recession in at least 25 years. Meanwhile, many of Rousseff's allies are implicated in a corruption scandal at state-run oil firm Petrobras. Rousseff was chairwoman of the company from 2003 to 2010 and many argue that she could not have known about the corruption.
"Time has shown that Dilma is unable to govern. She's thrown the country down a well," said Adriano de Queiroz, a protester in Brasilia.
Brazil has also seen its highest rate of year-on-year inflation in 12 years at 10.48 percent for November while forecasts say its gross domestic product should shrink by 3.5 percent in 2015.
Currently, the opposition does not have enough votes to impeach Rousseff, and the driving force behind the impeachment bid, Cunha, ishimself facing formal charges of taking as much as USD 40 million in bribes in the Petrobras investigation.
Many believe that the impeachment crisis is partly related to Cunha's attempt to distract attention from his case.
CUT, the largest umbrella union in Brazil, has meanwhile called a protest to support Rousseff on Wednesday.