Europe
100s hold anti-NATO rally in Newport, Wales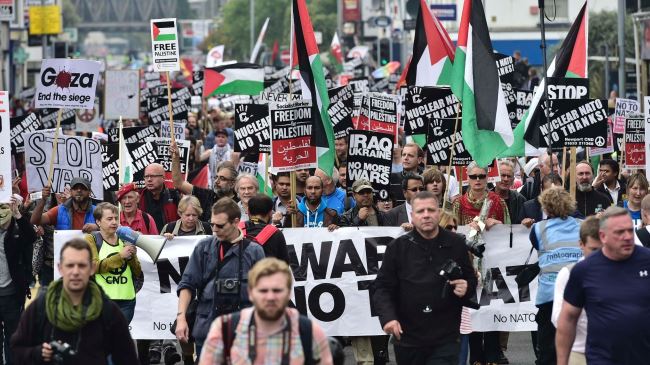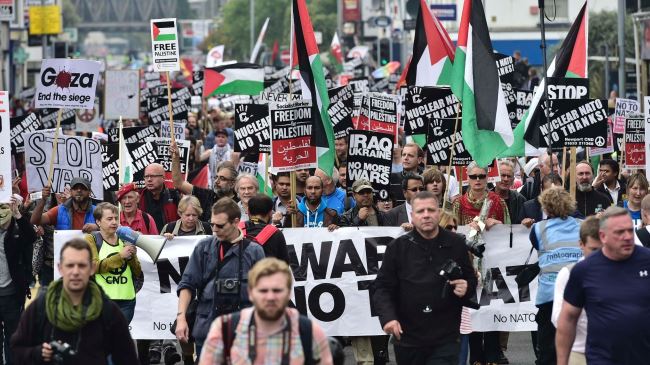 Hundreds of anti-war activists have held a demonstration in Newport to protest against the NATO summit being held in the Welsh city.
The protesters on Thursday marched from the center of the city to Celtic Manor Hotel, which is the main venue for the two-day summit.
Among the protesters were members of the Socialist Party, Socialist Workers Party, Stop the War Coalition parties as well as pro-Palestinian groups.
"Too much money is being spent on arms and not enough on the health service," said Dai John, a worker for the UK's National Health Service who took part in the protest.
"I cannot see that NATO is protecting people. NATO is killing people. NATO is engaged in war, it is doing war. They are sending drones, they are sending fighters," said Reiner Braun, co-president of the International Peace Bureau and a speaker from the German peace movement, who also attended the campaign.
Anti-NATO activists in the city also organized a counter summit, which began on August 30 and included discussions on drones, nuclear weapons and various ongoing Western military interventions.
The NATO leaders will also discuss the rising threat of the ISIL Takfiri terrorists in Syria and Iraq. The Western military alliance's planned withdrawal from Afghanistan will also be on the agenda.
NATO is expected to approve plans for a new rapid reaction force comprised of several thousand troops for Eastern Europe amid tensions with Russia.
The leaders of the US, UK, France, Italy and Germany will meet Ukrainian President Petro Poroshenko ahead of the summit in a show of unity against what they call Russian aggression against Ukraine.
On Tuesday, Deputy Secretary of Russia's National Security Council Mikhail Popov heavily criticized the Western military alliance for ratcheting up tensions by boosting its military presence near Russia's borders.