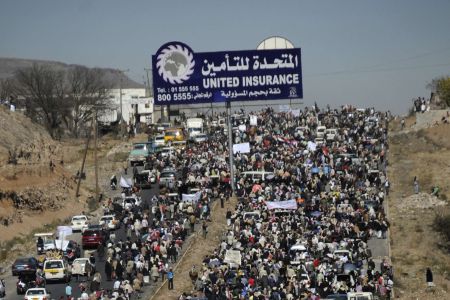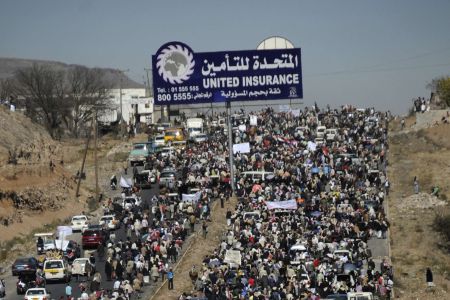 Forces loyal to the regime of former dictator Ali Abdullah Saleh have killed 13 peaceful civilians in the Yemeni capital Sana'a.
The protesters were killed on Saturday during clashes between forces loyal to Saleh and anti-regime protesters after tens of thousands of protesters arrived in Sana'a at the end of their four-day march from the southern city of Taizz.
"The death toll among protesters increased to 13, including a journalist identified as Tawfic Ahmed, and about 200 others were wounded," Faiz al-Shaybani, a medic at the protesters' field hospital in Sana'a, said.
According to eyewitnesses, regime forces used tear gas and water cannons and fired warning gunshots to disperse the demonstrators, who threw stones in response.
Regime forces then began firing into the crowds in an attempt to end the march and prevent the protesters from reaching Saleh's compound.
The 270-kilometer long march, entitled the March of Life, began on Wednesday.
Saleh, who had been in power for 33 years, signed a power transition deal brokered by the (Persian) Gulf Cooperation Council in Riyadh on November 23 in return for immunity from prosecution.
In line with the document, he resigned as president and handed authority over to Vice President Abdrabuh Mansur Hadi on December 23, but he will hold the post of honorary president until the presidential election in February 2012.