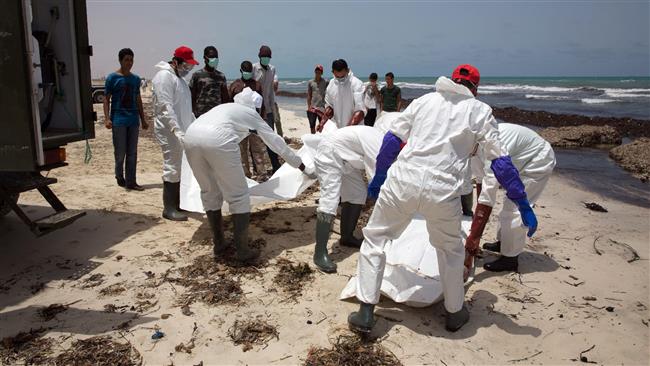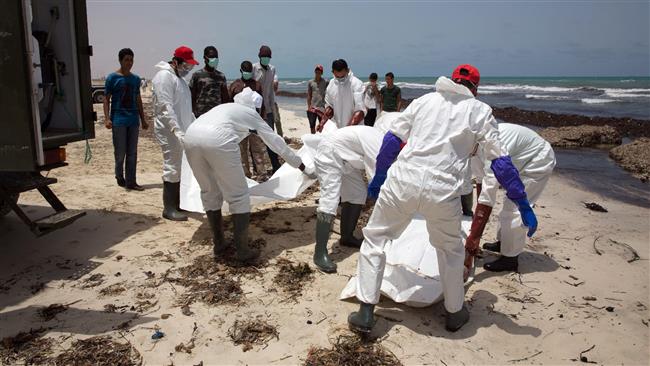 The Libyan Red Cross says the bodies of 133 refugees, including five children, have been washed up on Libya's western coast in recent days.
Three-quarters of the dead refugees were women, said Red Cross spokesman, Al-Khalis al-Bosaifi on Sunday, noting that the bodies were found on the shore of the northwestern Zuwara City.
Bosaifi added that no documents were found with the bodies to identify their nationalities but they were mainly sub-Saharan Africans.
A local official said the refugees were believed to have taken their journey from the Libyan city of Sabratha.
People who hope to reach Italy from Libya pay a huge amount of money to human smugglers to give them places on their flimsy boats.
The head of the EU's Mediterranean naval mission recently said that human trafficking accounts for about 30 to 50 percent of the GDP in northwestern Libya.
The UN refugee agency said the route between North Africa and Italy is "dramatically more dangerous" than the route between Turkey and Greece.
The agency said on Tuesday that some 880 people have drowned over the past week after a number of boats sank in the sea.
Large numbers of refugees from the Middle East and North Africa have died over the past months while trying to reach Europe via the sea.
Over 40,000 refugees have reached Italy after crossing the central Mediterranean so far this year. More than 2,000 people died during their dangerous journey.
Europe is facing an unprecedented influx of refugees, most of whom are fleeing conflict-ridden zones in Africa and the Middle East, particularly Syria.
However, the flow of asylum seekers into Europe has slowed to a trickle in recent weeks after Balkan nations shut their borders in order to prevent the refugee influx into Europe.