Syria
1,500 evacuated from besieged Damascus suburb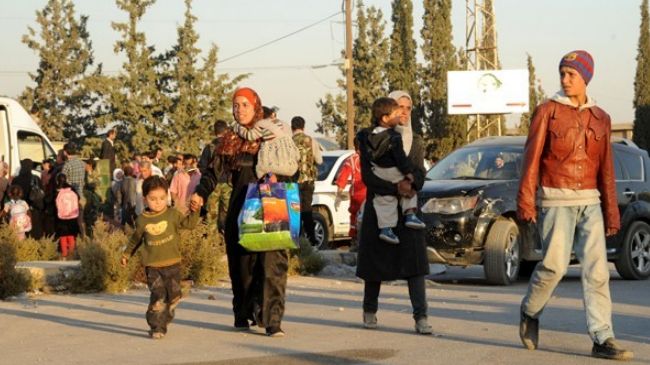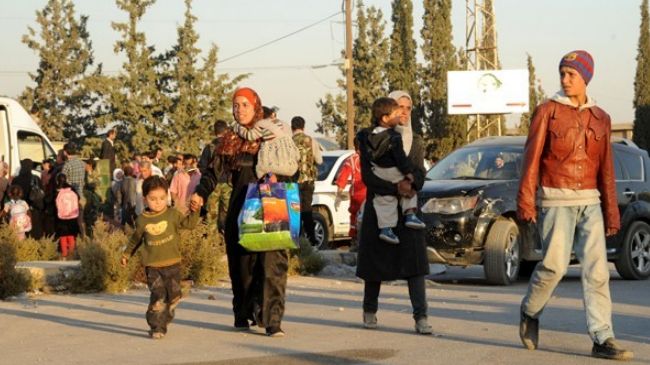 The Syrian Arab Red Crescent (SARC) says it has evacuated at least 1,500 people, mostly women and children, from a suburb southwest of Syria's capital, Damascus.
"Around 1,500 people, most of them women and children, were evacuated from a point on the outskirts of Moadamiyet al-Sham and taken to shelters," the SARC head of operations Khaled Erksoussi said on Sunday.
He added that the evacuated civilians "were in a state of major fatigue and were very scared."
Footage broadcast on the state television showed hundreds of people, almost all of them women and children, streaming towards a convoy of buses, while sick and elderly people were being transported using ambulances provided by the Syrian Arab Red Crescent.
Syrian Social Affairs Minister Kinda Shmat and soldiers welcomed the evacuees as they arrived.
Moadamiyet al-Sham has been a focal point of clashes between the Syrian government forces and foreign-backed militants. The area had been besieged by the Syrian army for months.
Erksoussi said SARC officials were unable to enter Moadamiyet al-Sham "to provide treatment to the wounded."
Meanwhile, an unspecified number of the International Committee of the Red Cross (ICRC) employees has been abducted by militants in Syria's northwestern province of Idlib.
Gunmen opened fire on the convoy carrying the ICRC employees on the road connecting the town of Sarmin, located 15 kilometers southeast of the city of Idlib, to the city of Saraqib. The abductees were taken to an unknown location.
The ICRC announced last month that 22 of its workers have been killed in Syria since the conflict started there more than two years ago.
The Geneva-based humanitarian institution stated that all the victims belonged to the SARC, and were killed while carrying out humanitarian missions.
Syria has been gripped by deadly unrest since 2011. Reports indicate that the Western powers and their regional allies — especially Qatar, Saudi Arabia, and Turkey — are supporting the militants operating inside the country.
According to the United Nations, more than 100,000 people have been killed and millions displaced in the violence.