Syria
HRW: Syria Armed Groups Kill 190 Civilians, Take 200 Hostages in Lattakia War Crime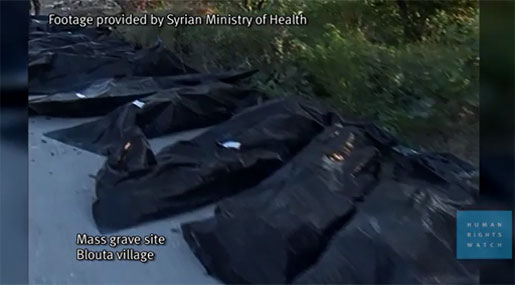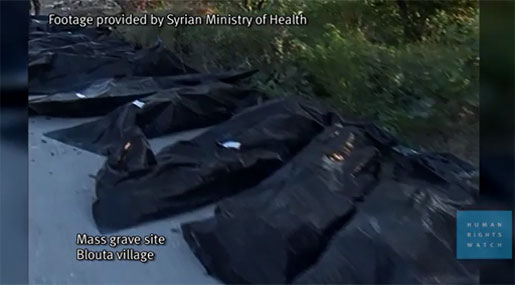 A prominent human rights group announced that Syrian armed groups of committing crimes against humanity during a recent offensive on an area held by people loyal to President Bashar al-Assad.
Human Rights Watch revealed that armed terrorists killed at least 190 civilians and took over 200 hostages, mostly women and children, during the August attack on Lattakia province.
The New York-based group's report clarified that at least 67 of the victims were executed or unlawfully killed during the attacks on 10 Alawite villages loyal to al-Assad. In some cases, the report said, entire families were gunned down.
The 105-page report, "You Can Still See Their Blood': Executions, Indiscriminate Shootings, and Hostage Taking by Opposition Forces in Lattakia Countryside," presented evidence that the civilians were slaughtered on August 4.
The investigation found that 20 armed groups participated in the operation. It said five extremist groups were the most involved, including al-Nusra Front and the so-called "Islamic State of Iraq and the Levant" both linked to al-Qaida; Ahrar al-Sham; Jaish al-Muhajireen wal-Ansar; and Suqqor al-Izz.
Human Rights Watch's acting Middle East director, Joe Stork, said the abuses were not just the actions of rogue fighters, but a "coordinated, planned attack on the civilian population."
Witnesses said the terrorists went house to house, in some cases executing entire families and in other cases killing men and taking women and children hostages.
One survivor, Hassan Shebli, said he fled as terrorists approached his village of Barouda at dawn, but was forced to leave behind his wife, who was unable to walk without crutches, and his 23-year-old son, who is completely paralyzed.
When Shebli returned days later, after government forces retook the village, he found his wife and son buried near the house and bullet holes and blood splatters in the bedroom, the New York-based group said.
"My mom was here in the house with me. She came out of the house first, and I was behind her. We saw the three fighters just in front of us, and then we fled on foot down behind the house and into the valley. The three fighters that I saw were all dressed in black. They were shooting at us from two different directions. They had machine guns and were using snipers. My older brother came down and hid with us as well. We hid, but my dad stayed in the house. He was killed in his bed. My aunt, she is an 80-year-old blind woman, was also killed in her room. Her name is Nassiba,"another witness added.
A Barouda resident told Human Rights Watch that 23 of her relatives were missing. She said she saw several of them on the YouTube video: "The oldest son of my brother… [who was executed] would have just been starting school … He has two sons, [one] who is six, and [another] who is four-and-a-half."
Other residents told Human Rights Watch about cases in which opposition fighters executed adult male family members, and then captured women and children from the family as hostages.
Nine residents from the Lattakia countryside separately told Human Rights Watch that their relatives had been taken hostage. Three of these residents said they saw their relatives in the background of a video published on YouTube on September 7. The video showed civilians from the area held hostage by Abu Suhaib, the Libyan local leader of Jaish al-Muhajireen wal-Ansar.
Lama Fakih of Human Rights Watch said the rebel abuses in Lattakia "certainly amount to war crimes," and may even rise to the level of crimes against humanity.
The group said more than 20 groups participated in the Lattakia offensive.
"The high civilian death toll, the nature of the recorded wounds – for example, multiple gunshot or stabbing wounds – and the presence of 43 women, children, and elderly among the dead together indicate that opposition forces either intentionally or indiscriminately killed most of the remaining victims," the organization added.
In response, the organization urged the concerned governments with influence over these armed opposition groups to press them to end deliberate, indiscriminate, and disproportionate attacks on civilians. "In addition, all governments, companies, and individuals should immediately stop selling or supplying weapons, ammunition, materiel, and funds to these groups, given the compelling evidence that they have committed war crimes and crimes against humanity," it mentioned.
Governments should also not permit the use of their national territory for shipment of arms, ammunition, and other materiel to these groups, Human Rights Watch said.
It further mentioned that Turkey should increase border patrols and prevent the entry of fighters and arms for groups credibly implicated in systematic human rights violations. "Turkey should also investigate and prosecute, under the principle of universal jurisdiction and in accordance with national laws, anyone in Turkey suspected of committing, being complicit in, or having command responsibility for war crimes and crimes against humanity."
The UN Security Council and Turkey's allies should call on Turkey in particular to do more to verify that no arms are passing through Turkey to abusive groups, Human Rights Watch said.