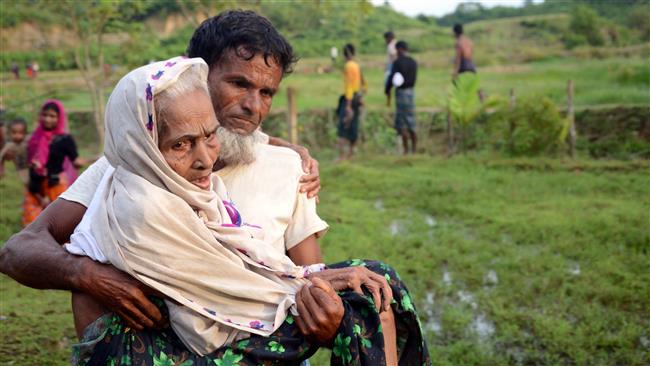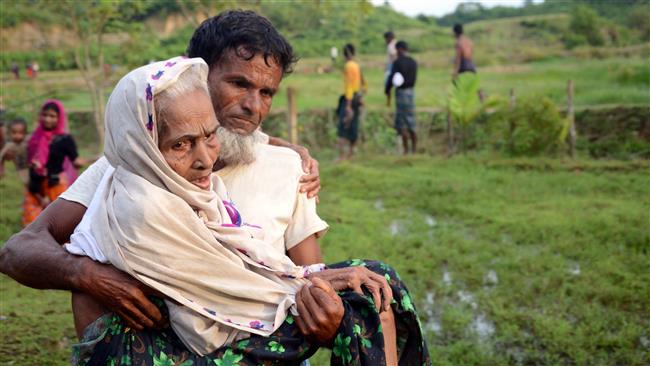 At least 16 Rohingya Muslims, including children, have drowned while fleeing an escalation of violence in Myanmar, which has forced thousands of members of the persecuted minority to seek refuge across the border in neighboring Bangladesh.
Coastguards in Bangladesh discovered the bodies washed up on the western banks of the border river of Naf on Thursday.
The Muslim refugees had drowned in the rough waters when their rickety boat overturned halfway in the wide and deep river.
A day earlier, the bodies of two Rohingya women and two children had also washed up on the Bangladeshi side of the river. Their boat, too, had capsized.
A new wave of violence broke out recently after dozens of police and border outposts in the state of Rakhine came under attack purportedly by a group claiming to be the defenders of the Rohingya minority. The alleged assaults were launched in response to a government clampdown in the area, where over a million Rohingya are based.
Since last week, at least 100 people, including 12 Myanmarese soldiers, have been killed in the violence.
The volatile Rakhine, located northwest of the Buddhist-majority Myanmar, has been the scene of communal violence since 2012. Many of the Muslims have lost their lives while tens of thousands have been displaced as a result of attacks by Buddhists. The refugees largely live in camps in dire conditions.
Rakhine has also been under a military siege since October 2016, when the government used a purported deadly militant attack on border guards back then as a pretext to enforce the siege. There have been numerous eyewitness accounts of summary executions, rapes, and arson attacks by security forces against the Muslims since the crackdown began.
The United Nations (UN) has described Rohingya Muslims as the "most persecuted minority group in the world."
Myanmar's government denies full citizenship to the Rohingya Muslims, branding them illegal immigrants from Bangladesh. Dhaka, in turn, regards the desperate refugees as Myanmarese and harshly pushes them back. The Rohingya, however, track their ancestors many generations back in Myanmar.
On Wednesday, the International Organization for Migration announced that some 18,500 Rohingya Muslims had crossed the border into Bangladesh since a week earlier. However, reports said Bangladeshi border guards forcibly returned around 100 refugees back to Myanmar.
Currently, some 400,000 immigrant Rohingya Muslims live in Bangladesh.
Myanmar is under fire by the UN and other rights groups, including Amnesty International, for the clampdown on the minority.