Lebanon
Middle East
Resistance Axis
19 October 1988: When a Hezbollah Mujahed Wreaked Havoc on Zionist Israelis
It was the 19th of October, 1988, at 13:00 O'clock, when Martyr Abdullah Atwi, AKA. Al-Hurr Al-Ameli, broke through Israeli barriers in the occupied border crossing that cuts through the Israeli town of Metula and the Lebanese village of Kfarkila.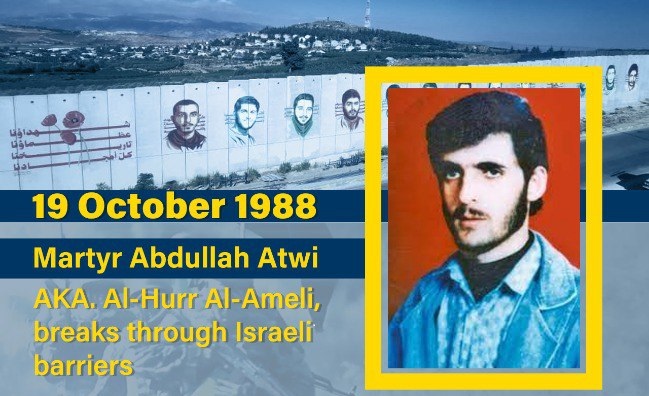 In details of the heroic operation, Martyr Atwi rammed his booby-trapped car with high-explosive packages weighing 500 Kg into two Zionist military convoys, turning both of them into carnage and fire.
A military truck loading 18 "Israeli" soldiers, M113 armoured personnel carrier loading eight soldiers, a jeep carrying four soldiers, and a Mercedes car carrying Israeli Intelligence personnel turned into pile. Eight Zionist soldiers at the border line were also killed.
The operation wreaked havoc among Israelis who were perplexed by the huge losses among their ranks. After Ezer Weizman, the 7th President of 'Israel', heard the news, he got a heart attack and needed to be hospitalized.