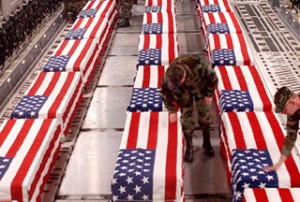 At least one American soldier and one NATO service member have been killed in separate attacks in Afghanistan, NATO has announced.
The US soldier was killed in the attack in the east on Friday, said NATO spokesman Col. Wayne Shanks, the Associated Press reported.
The nationality of the second victim, who died in a roadside bombing in the south on Thursday, has not been announced by the western alliance.
Earlier on Wednesday, two other NATO soldiers were killed in southern Afghanistan.
Attacks against 130,000 US-led troops in Afghanistan have been on the rise.
Meanwhile, Washington plans to deploy 30,000 additional troops by August in an effort to curb the increasing militancy.
The 2001 US-led invasion of Afghanistan, involving forces mostly from NATO countries, has so far failed to bring security to the war-ravaged country.