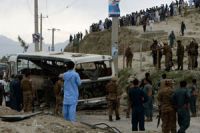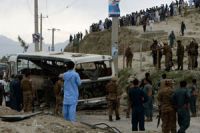 At least two afghan soldiers have been killed and several others severely wounded in a bomb attack on a military bus in the capital Kabul.
According to AFP, the explosion took place on Monday in the southeast of the city when an assailant riding a motorcycle detonated his explosives near the bus.
A local resident said "I heard this big bang and when I came out of my house, I saw an army bus full of people covered in blood."
The Afghan Defense Ministry said in a statement that as a result of the blast "two soldiers were killed and nine others were wounded."
Meanwhile, Gen. Kadam Shah Sheem, Kabul military commander, said the bus was full of officers, soldiers and Defense Ministry staff that had just left a nearby military base.
Taliban spokesman, Zabiullah Mujahid, claimed responsibility for the deadly assault.
President Hamid Karzai denounced the attack in a statement issued by his office, saying it was carried out by "those enemies of the Afghan people who don't want us having a strong and developed Afghan Security Forces in our country."