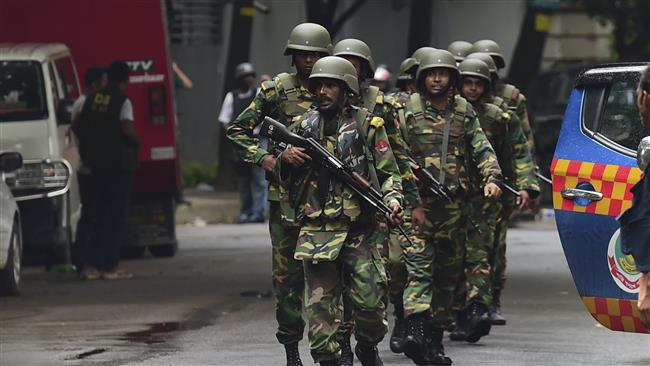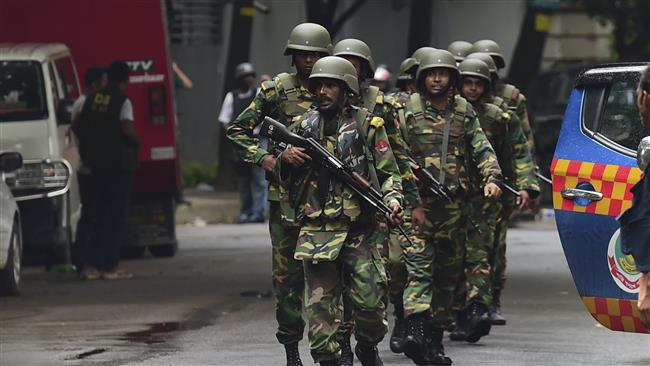 The Bangladeshi army says 20 civilians, all of them foreigners, have been killed by Daesh-linked gunmen after security forces ended a siege at a cafe in the capital, Dhaka.
"We've recovered 20 bodies. Most them had been brutally hacked to death with sharp weapons" at Holey Artisan Bakery in Dhaka, Brigadier General Nayeem Ashfaq Chowdhury told reporters, without giving the nationality of the victims.
He said survivors were also rescued at the end of the siege at the café in the vicinity of the US Embassy, which is popular with expatriates, diplomats and middle-class families.
"Three of those who were rescued were foreigners, including one Japanese and two Sri Lankans," said the spokesman.
The army said the victims were mostly Italian or Japanese.
Late on Friday, a group of armed attacked the upscale cafe in the diplomatic area of the capital at around 21:20 (13:20 GMT), setting off explosives and taking a number of people hostage, including foreigners. Police said eight to nine gunmen armed with assault rifles and grenades were holed up inside.
Initial reports had put the number of those trapped inside the café at around 20.
Several hours later, Police forces managed to enter the place to free the hostages. Two officers lost their lives in the clashes.
On Saturday morning, police declared an end to the 12-hour siege and said the café was free of gunmen. Six attackers were killed and another arrested alive during the operation.
Japan said one of its citizens had been shot and wounded in the attack, but the injuries were not life threatening.
Italian Ambassador to Bangladesh Mario Palma was quoted by Italy's state TV as saying that seven Italians are among the hostages.
The Daesh terror group claimed responsibility for the attack. It posted photos of what it said were dead foreigners killed in the assault.
Addressing a live broadcast following the attack, Bangladesh Prime Minister Sheikh Hasina condemned the assault as a "heinous act" and emphasized the need for a firm fight against terrorism in his country.
"People must resist these terrorists. My government is determined to root out terrorism and militancy from Bangladesh," he added.
In recent months, Daesh and al-Qaeda have claimed several deadly attacks mainly targeting secular bloggers, academics and members of religious minorities, including Shia Muslims, Hindus and Christians.
However, Dhaka denies that Daesh is active in the country and blames opposition parties or local militant groups for the killings.