Syria
Reinforcements Sent by Syrian Army to Douma for Cleansing Operations against Jeish Al-Islam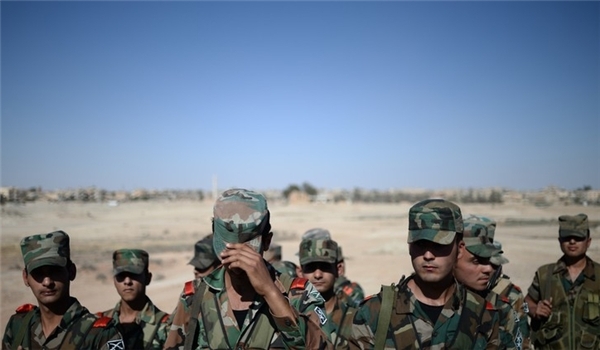 The Syrian army has sent a large number of fresh forces and military equipment to the Northern parts of Eastern Ghouta to ready for purging operations against Jeish al-Islam terrorists.
A mid-ranking military official confirmed on Saturday that the Syrian army has sent a large number of its special forces along with military equipment from Ein Tarma and Harasta to Douma, Jeish al-Islam's main bastion in the region.
He referred to the agreement between the Syrian and Russian armies and Faylaq al-Rahman militants to evacuate Ein Tarma, Zmelka, Jobar and Arabayn, and said Douma is the last terrorist stronghold in Eastern Ghouta after cleansing these regions.
Meantime, reports said that based on the agreement with Faylaq al-Rahman almost 7,000 terrorists and their family members will leave the four regions for Idlib.
The Faylaq al-Rahman terrorist group agreed to leave Eastern Ghouta for Idlib after facing the Syrian army's rapid advances in the region.
Faylaq al-Rahman's commander Abdolnasser Shamir asked the Syrian army on Thursday night to allow members of the terrorist group to leave the militant-held areas in Eastern Ghouta for Idlib.
Meantime, field sources reported that the terrorists' evacuation of their most important bastion, Harasta, and the army's extensive advances in the town of Ein Tarma, have forced Faylaq al-Rahman to leave the region.
Ein Tarma region was one of the most important strongholds of Faylaq al-Rahman but the Syrian army won control over the region during its recent advances.