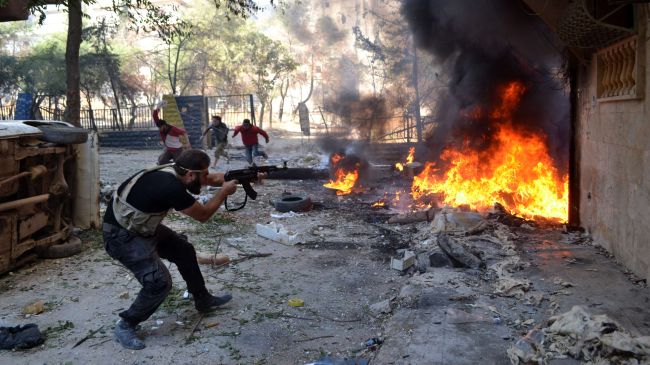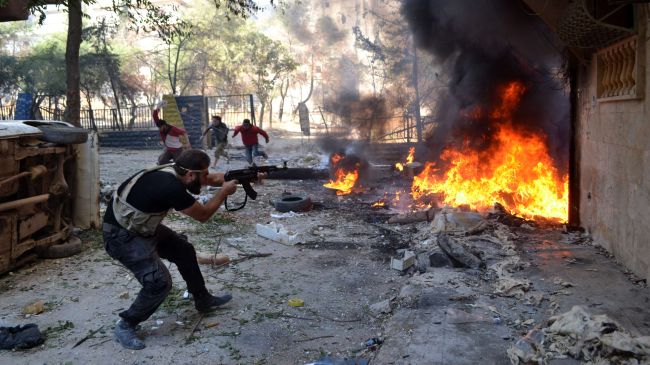 At least 21 civilians have been killed and dozens injured in mortar attacks and bombings in four different cities across Syria as deadly violence rages on in the Arab country.
Four mortar shells fired by foreign-backed militants on Thursday hit Jaramana near the Syrian capital, Damascus, killing at least 11 people and injuring 23 others.
The first three shells struck the entrance of Jaraman and the fourth hit an area near a hospital and caused material damages.
Some six people were killed and 16 others injured after a number of mortars slammed into a residential area in Azamiyah in the northern city of Aleppo.
Elsewhere in Homs, mortar attacks killed at least two people and wounded five others in al-Enshaat neighborhood.
In another incident, a roadside bomb went off near a school in the central city of Hama, killing two students and injuring two others.
The attacks came as the Syrian government forces continue their battle against foreign-backed militants across the country.
Over the past few months, Damascus has come under several mortar attacks from anti-government militant groups holed up on the outskirts of the city.
Syria has been gripped by deadly turmoil since 2011. Reports indicate that Western powers and their regional allies — especially Qatar, Saudi Arabia, and Turkey — are supporting the militants operating inside the country.
According to the United Nations, more than 100,000 people have been killed and millions of others displaced in the violence.