Middle East
Palestine
21 zionist army soldiers injured in massive brawl between troops at training base
Nearly two dozen Israeli soldiers have been injured after a massive brawl erupted between troops from two different training companies at a military base in the occupied territories.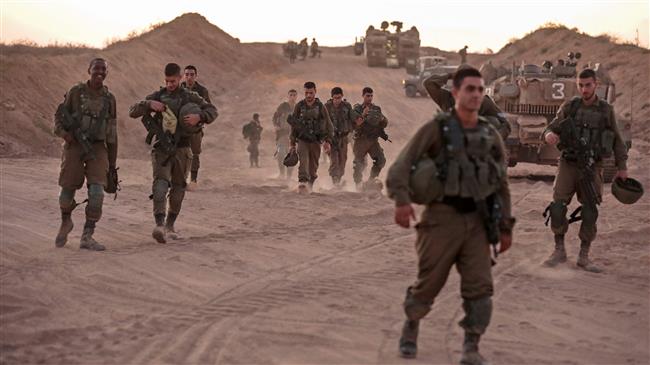 According to the Israeli military, the confrontation occurred when soldiers from the Bedouin 585th reconnaissance unit's training company and the Shaked Battalion's training company were waiting in line to go into the dining hall for lunch at the Har Keren training base on Sunday.
The brawl involved around 30 people – some 21 of whom were injured in the altercation — and lasted roughly 10 minutes before the commander of the training class arrived and broke it up.
Things became so heated that one of the troops even started loading his gun, according to one witness cited by the English-language Jerusalem Post daily.
The majority of the soldiers were treated on site, but eight required hospitalization with light injuries.
A second fight then erupted at the base's clinic between two soldiers who had gone there for medical treatment after the initial confrontation. "That was quickly broken up by a commander," the military said.
The military called the brawl an "unusual and serious" incident, emphasizing it will punish all soldiers involved, as well as their commanders.
"All of the soldiers who took part in the violence, and the commanders who did not fulfill their duty in preventing the incident, will be dealt with harshly, including the commanders of the platoons and teams. In addition, the commanders of the company will be reprimanded for their responsibility for the event," it said in a statement.
Both companies have been suspended from training exercises in the wake of the confrontation so that the soldiers could purportedly attend classes on accepting fellow servicemen, after which the two units will spend an evening together in an event overseen by the commander of the training base.
Back on January 26, 2018, nine Israeli soldiers were injured in a brawl between troops at a base in the southern part of the occupied territories.
Of the nine who were injured, seven were taken to receive medical treatment at a hospital, Hebrew-language media outlets reported at the time.
In December 2017, an Israeli military court charged two soldiers with aggravated assault and causing actual bodily harm after they were found guilty of attacking another member of their unit, including breaking his nose and causing other injuries.