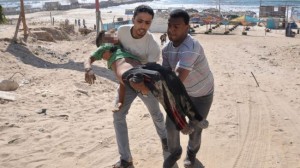 227 Palestinians killed in Israeli attacks on Gaza
The death toll from ten days of Israeli attacks against the Palestinians in the besieged Gaza Strip has reached 227, with more than 1,600 others having been injured.
In the latest deaths, four members of the same family, including two children, were killed after Israeli warplanes fired missiles in Khan Yunis.
Several others were also killed in Rafah.
The new deaths follow the killings of four children between the ages of 9 and 11 after an Israeli naval ship fired multiple artillery shells, as they were playing on a beach in Gaza City. The attacks were witnessed by foreign journalists staying in Gaza.
Since July 8, the Israeli regime has struck more than 1,800 targets across Gaza, which is home to around 1.8 million Palestinians.
According to the UN humanitarian agencies, about a third of the dead are women and children.
Some 18,000 people have taken shelter in Gaza schools.
The Israeli military is going on with its airstrikes on the besieged Gaza Strip while Palestinians are responding by firing a barrage of rockets into Israel.
Meanwhile, the Israeli human rights organization B'Tselem has slammed as illegal and unfounded an interpretation presented by an Israeli army spokesman who has said that the neighboring houses of Palestinians suspected of carrying out military activities were considered to be legitimate targets of attacks.
Israel has blockaded Gaza since 2007, denying the Palestinian people there of their basic rights, such as freedom of movement, jobs that pay proper wages, and adequate healthcare and education.