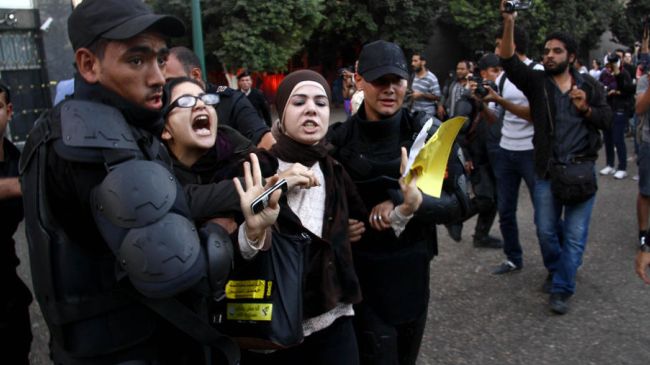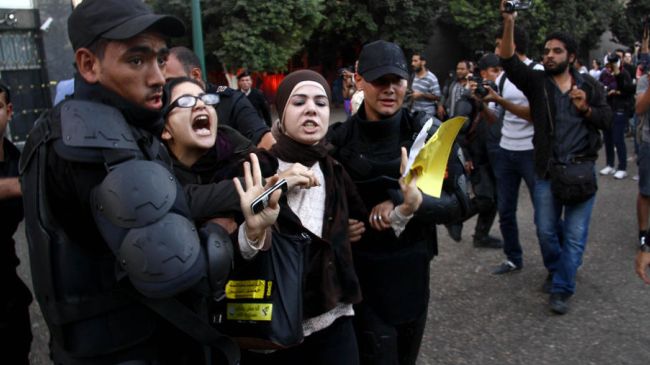 Egypt's prosecutor general has ordered a four-day detention for 24 activists arrested during protests against a new law criminalizing demonstrations without permit, media reports say.
The detained activists were accused of violating the controversial law by not obtaining a permit from the Interior Ministry, by "using force," and by carrying knives and resisting police, according to Egyptian state news agency MENA on Wednesday.
Cairo also issued arrest warrants for two well-known activists wanted for inciting demonstrators to organize the protest.
Authorities are seeking to detain Ahmad Maher, the founder of the April 6 movement against former dictator Hosni Mubarak that led to 2011 revolution in the country, and Alaa Abdel Fattah, a prominent activist.
On Tuesday, security forces used water cannons to disperse demonstrators protesting outside the upper house of the parliament in Cairo.
The demonstrators denounced a proposed constitutional amendment allowing military courts to try civilians.
Egypt enacted a controversial new protest law on November 24, under which the gatherings of more than 10 people require a written permit three days prior to the protest.
The controversial anti-protest law authorizes the security forces to use tear gas, water cannons, smoke grenades, warning shots, rubber bullets, and even live ammunition against unauthorized demonstrators after issuing warnings.
Cairo's crackdown on protesters has drawn criticism from UN High Commissioner for Human Rights Navi Pillay as well as the leading human rights group, Amnesty International.
Tensions in the North African country have been running high since the first democratically-elected president, Mohamed Morsi, was ousted following a "military coup" early in July. Hundreds have lost their lives in the ensuing violence across the country.