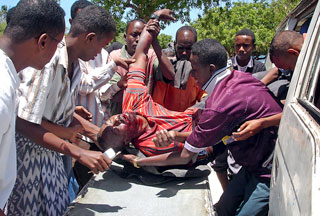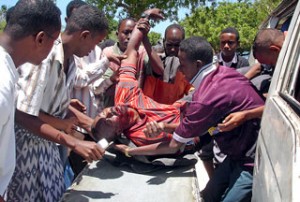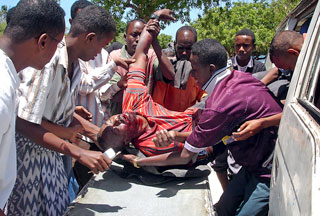 At least 24 people, mostly civilians, have been killed and over 30 others injured in heavy firefights between Somali forces and militants in Mogadishu, witnesses and officials said.
The fighting, which started on Sunday and continued through the better part of Monday, was concentrated in northern Mogadishu, where pro-government forces engaged with militants in a fierce battle that left at least 16 civilians and eight combatants from the two sides dead.
Col. Dahir Ali Farey, a Somali military spokesman, confirmed that there were some casualties on his side but maintained that his troops successfully secured rebel-held areas in northern districts.
Heavy fighting erupted on Monday near the base of the African Union's Burundian troops at the Jalle Siad military camp, north of Mogadishu, where heavily-armed Al Shabaab fighters carried out attacks.
Al Shabaab and another militant group, Hizbul Islam, have claimed responsibility for the latest flare-ups, which have rattled the capital's relative tranquility.
In addition, five children and several animals were killed by a landmine near the central Somali town of Balanbal in Galgadud.
According to the town's administrator, the landmine exploded after the children, four boys and a girl from the same family and their animals, came into contact with it.
The children's parents were reportedly unharmed, he added.