Afghanistan
Asia-Pacific
24 killed in blast at rally attended by Afghan president
An explosion has hit a campaign rally attended by Afghan President Ashraf Ghani in the northern province of Parwan, leaving at least two dozen people dead.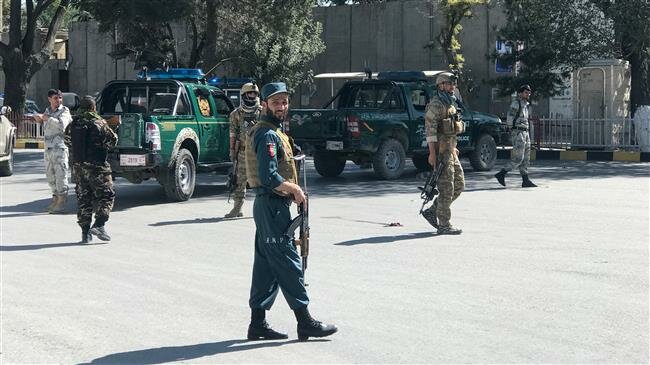 Wahida Shahkar, a spokesman for the provincial governor, said the blast was caused by an improvised explosive device attached to a security vehicle on Tuesday afternoon, when the president began addressing an election campaign rally in the city of Charikar, the capital of Parwan Province.
Shahkar added that the explosion hit the entrance to the venue, killing at least 24 and injuring over 30 people.
"Women and children are among them and most of the victims seem to be the civilians. Ambulances are still operating, and the number of casualties may rise," said Abdul Qasim Sangin, the head of the provincial hospital.
Reports said President Ghani was not hurt in the blast and was taken to safety.
No group or individual has so far claimed responsibility for the incident, the first high-profile terrorist attack that targeted an event featuring the Afghan president himself.
Formerly, a rocket attack had targeted an event attended by Chief Executive Abdullah Abdullah and former president Hamid Karzai.
Event attended by Afghan chief executive, ex-pres. raidedAn event attended by Afghanistan's current chief executive and former president in the capital, Kabul, is attacked with rockets.
Scheduled for September 28, the presidential election in war-ravaged Afghanistan has been postponed twice over fears of terrorist attacks.
Ghani has entered the race in a bid to secure one more term in office.
Blast rocks Kabul
In a separate development on Tuesday, a blast in the center of the capital Kabul killed at least six people, according to police officials.
"We are investigating whether it was a suicide attack or whether a magnetic bomb was attached to a motor-bike," Interior Ministry spokesman Nasrat Rahimi said.
There was no immediate claim of responsibility.
The incidents took place after the US-Taliban peace talks collapsed last week.
The US and its allies invaded Afghanistan to remove the Taliban regime. Some 18 years on, Washington has been seeking truce with the militant group.