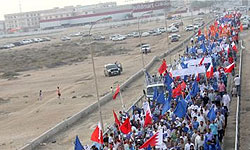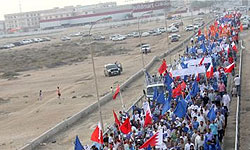 The Bahraini regime arrested more than 240 people, including three women as well as 19 children, during police raids in May, 2013.
According to Bahrain's main opposition group, al-Wefaq National Islamic Society, al-Khalifa regime forces made at least 291 attacks to civilians' houses within the same period of time.
At least 47 activists were injured during the clashes and 25 others gained sever torture for participation in demonstrations held in May, al-Wefaq added.
Earlier, Bahraini regime forces also raided the house of prominent Shiite Muslim cleric Ayatollah Sheikh Isa Ahmed Qassim, Alalam reported.
Security forces reportedly broke the doors of Sheikh Qassim's house in the Northwestern village of Diraz and vandalized his property.
The Bahraini revolution began in mid-February 2011, when the people, inspired by the popular revolutions that toppled the dictators of Tunisia and Egypt, started holding massive demonstrations.
The Bahraini government promptly launched a brutal crackdown on the peaceful protests and called in Saudi-led Arab forces from neighboring states.