North America
2nd night of protests erupt in Philadelphia over police killing of Black man
Protests erupted in Philadelphia, Pennsylvania's largest city, for a second night on Tuesday after police fatally shot another African-American man there.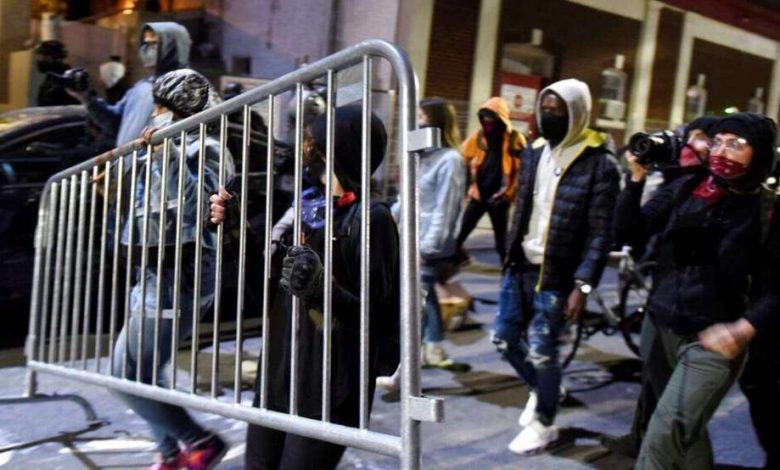 On Monday afternoon, a 27-year-old man, identified as Walter Wallace, was shot several times in the shoulder and chest in a neighborhood in west Philadelphia.
After Wallace was shot, he fell to the ground, and said one of the officers drove him to Penn Presbyterian Medical Center, where he was pronounced dead.
The incident sparked outrage among the residents and led to protests, which draw into early Tuesday morning and then night.
Police said Wallace was armed with a knife, when they were trying to arrest him but his parents said that officers knew he was in a mental health crisis as they had been to the family's house three times on Monday.
Officers had responded to a report of a person with a weapon twice before receiving a third call which was meant for an ambulance to help the Black man deal with a mental health crisis, the Wallace family's attorney, Shaka Johnson, said Tuesday.
"When you come to a scene where somebody is in a mental crisis, and the only tool you have to deal with it is a gun … where are the proper tools for the job?" Johnson said, asserting that Philadelphia police officers were not properly trained to handle mental health crises.
"I was telling the police to stop 'Don't shoot my son,'" Wallace's mother told reporters. "They paid me no mind."
On Tuesday night, hundreds took to the streets and about 500 people gathered at a West Philadelphia park and marched through the neighborhood, chanting and demanding the names of the officers involved in the incident.
Some looting was also reported in spite of pleas from the man's family for an end to any violence or looting.
"I hope people show my family and the city some kind of respect … it's uncalled for. It really is," said Wallace's father, Walter Wallace Sr. "There's a right, and there's a wrong."
According to police, 1,000 looters began targeting businesses, ransacking a Foot Locker, Rite Aid and other retail stores. Police also said that at least one vehicle was set on fire.
Police also urged residents in certain districts to stay inside.
"The Philadelphia Police Department is requesting that all residents in the 12, 16, 18, 19, 24, 25, and 26th Districts remain indoors except when necessary. These areas are experiencing widespread demonstrations that have turned violent with looting," the city's emergency management office tweeted.
Also, the office of Pennsylvania Governor Tom Wolf released a statement, announcing that the National Guard troops will also be mobilized during the next 24 to 48 hours, and will "protect the right to peacefully assemble and protest while keeping people safe."
Meanwhile, at least 30 police officers have been injured and 33 protesters have been arrested.