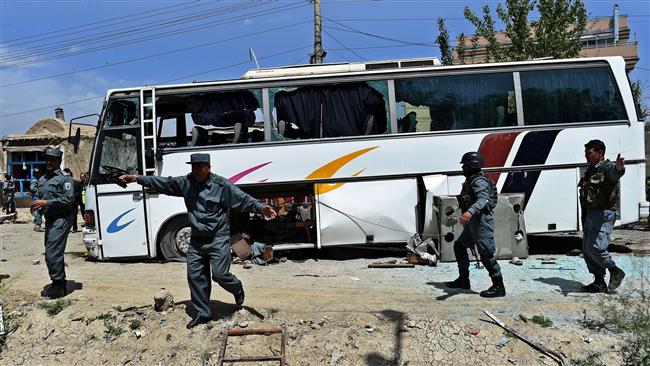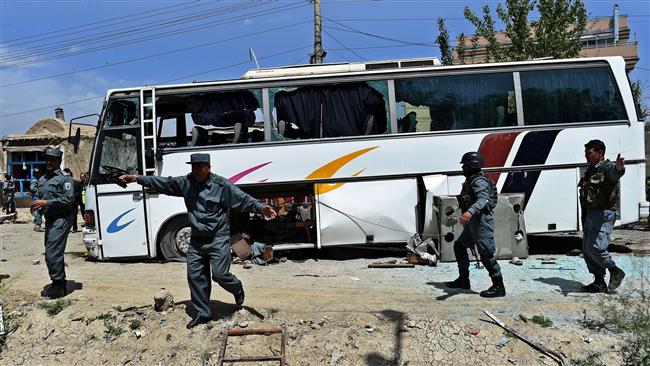 A bomber in Afghanistan has attacked a government bus carrying staff of the Afghan Attorney General's office, killing at least three and wounding 18.
The victims of the Sunday attack, the second targeting of the employees of the judicial office in a week, included civilians and civil servants, said Interior Ministry spokesman, Sediq Sediqqi.
He added that the attack, which was carried out by a "bomber on foot," occurred during the afternoon rush hour, when employees were boarding the bus to return home.
Nearly a week ago, an identical attack on the judiciary staff left one dead .
The Taliban militants have claimed responsibility for both bombings.
Earlier on Sunday, a truck bomber targeted the National Directorate for Security in the southern city of Kandahar by setting off his explosives near the agency's compound, injuring four intelligence agency staff, said the directorate's spokesman, Hasib Sediqi.
Afghan police and security personnel inspect the scene of a suicide car bomb attack near a district police headquarters in the center of the Afghan capital Kabul on March 25, 2015. ©AFP
The Taliban also claimed responsibility for the Kandahar bombing as well as another attack in the northwestern Badghis province where gunmen attacked government offices in the Jawand district, according to a spokesman for the provincial governor.
The developments come as the Taliban militants have started their annual spring offensive against Afghan security forces and the US-led foreign troops across the war-torn country.
The United States and its allies invaded Afghanistan in 2001 as part of Washington's so-called war on terror. The offensive removed Taliban from power, but insecurity still remains across the country.
The US-led combat mission in Afghanistan ended on December 31, 2014. However, at least 13,500 foreign forces, mainly from the United States, have remained in the country in what Washington calls a support mission.