World News
300,000 protest proposed tax, pension reforms in Argentina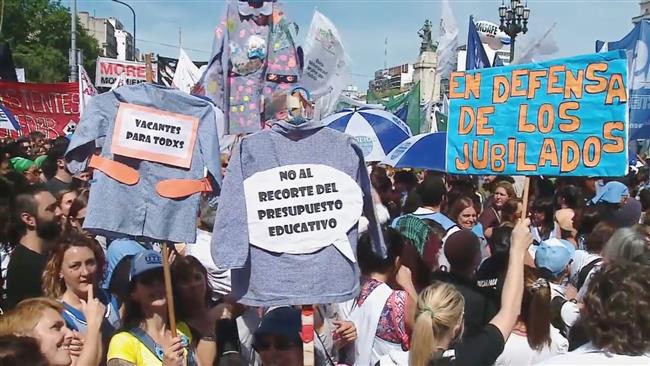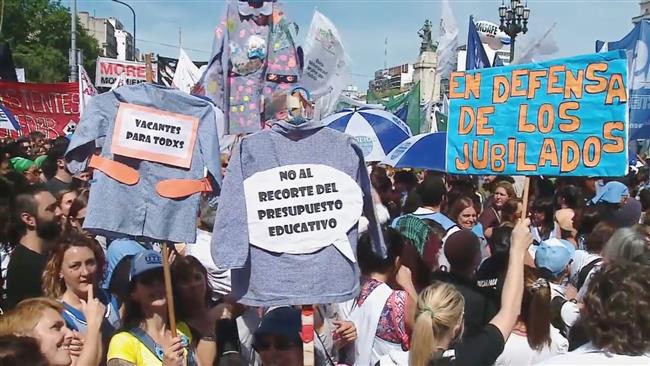 Hundreds of thousands of Argentinean people have flocked to the streets in the country's capital of Buenos Aires to express discontent over government-proposed labor, tax, and pension reforms.
An estimated 300,000 protesters gathered outside the Argentine Congress in central Buenos Aires on Wednesday, denouncing what they called President Mauricio Macri's "regressive" approach to taxes, pensions, and labor law.
Listening to public speeches, the massive crowd chanted anti-reform slogans and held banners that read, "In defense of the retirees."
The new protest came following a press conference in which Macri announced his reform plan before businessmen, trade unionists, and opposition governors, vowing to press ahead with reforms to the country's tax, labor, and retirement regulations.
The proposed plan by the Argentinean president includes cutting corporate taxes, reducing severance payments, and allowing firms to offer time off instead of extra money in return for overtime work.
The critics of Macri's proposal maintain that overhauling labor law would "diminish the historic rights of Argentinean workers" in the interest of guaranteeing profits for employers.
The president, however, says the government is seeking to reduce labor costs in order to attract foreign investors.
Macri's coalition party of "Let's Change" swept five of the country's most popular areas in the October mid-term elections, securing a stronger mandate to pass his reforms.