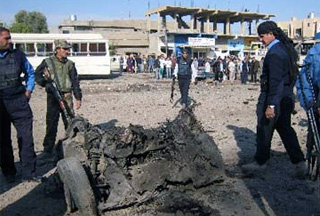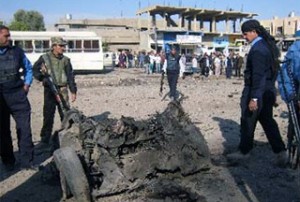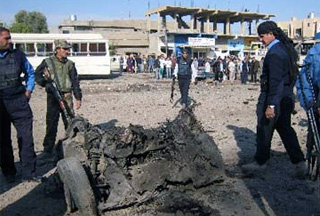 Baquoba bathed in blood after a third explosion struck a hospital swarming with casualties from two car bombs in the central Iraqi city earlier in the day.
Two bombers in explosive-packed cars attacked police stations in Baquoba on Wednesday, followed by a third bomber who blew himself up in a hospital where the wounded were being treated.
"The three bombings killed 29 people," AFP quoted an official from the city's operations command as saying initially. Later reports, however, indicate that the death toll has climbed to 33.
According to the latest reports, at least 55 people have also been injured in the terrorist attacks.
Police immediately announced a curfew in Baquoba, whcih is located 65 km (40 miles) northeast of the capital, in volatile Diyala province, known as a stronghold of al-Qaeda-lined extremists.
The third bomber was on foot and apparently wearing a military or police uniform, Reuters reported.
Unrelenting violence has plagued Iraq following the US-led invasion of the Persian Gulf nation in 2003 as it continues to claim a heavy toll on the Iraqi civilians.
In January, December, October and August the country witnessed major bombings that devastated government buildings and hotels in the capital.
Violence has picked up again recently despite a reported drop in assassinations and bombings in the war-weary country.
The Wednesday attacks mark the day as the bloodiest, so far, in the immediate run-up to the country's parliamentary election on Sunday.