Europe
34 arrested at anti-nuke protest at UK naval base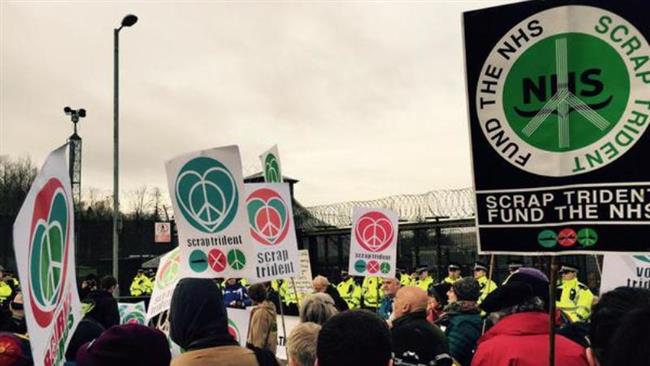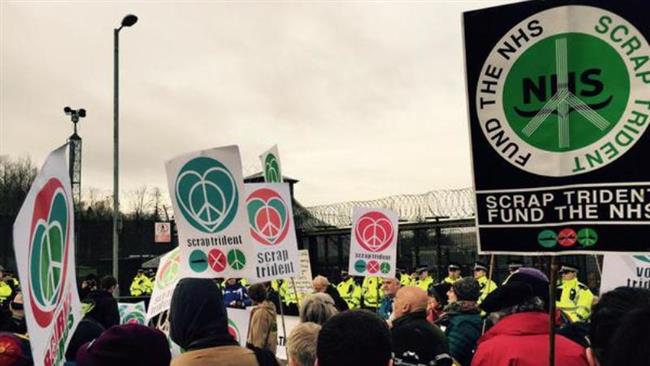 British police have arrested over thirty Scottish demonstrators who staged a blockade outside the UK's Faslane Naval Base over London's plans to renew its nuclear missile system known as Trident.
Authorities detained 34 people on Monday after protesters managed to block all entrance points to the high-security military site.
According to police estimates, some 200 protesters participated in the demonstration as part of a number of events dubbed "Bairns Not Bombs" – bairns in Scottish means a small child – organized by the Scrap Trident coalition.
The protesters began the blockade in the morning holding placards reading "Scrap Trident," and a number of demonstrators chained themselves together outside the gate to prevent workers from entering the naval base. Police used cutting equipment to separate the protesters.
Protesters chained to each other during a blockade of an entrance to UK's Faslane Naval Base northeast of Glasgow, Scotland on April, 13, 2015.
Protest organizers described the event as a "huge success," with a Scrap Trident spokesman saying, "This has been one of the most effective blockades in our experience with so many workers being unable to enter the base."
"Trident is a hot topic at the general election and this gives us hope that at last we can tackle the British state's addiction to monstrous and mindless violence," the spokesman added.
The aim of the blockade was also to draw attention to UK's nuclear deterrent ahead of next month's general election.
The next British parliament will decide on renewing the Trident program, which would reportedly cost British taxpayers £100 billion (USD 149 billion).
Scotland's two main parties have already voiced their opposition to the Trident nuclear missile program which is expected to cost USD 4.4 billion annually.
Arthur West, chair of Scottish Campaign for Nuclear Disarmament (CND), said in a statement that the money should instead be spent "on decent things like housing, jobs and education."
In response to the protest, a spokesman for the Faslane base said the Ministry of Defense recognizes the right of people to hold peaceful demonstrations, adding that the operational output of the base was not affected by the action as "they had contingency plans in place."
The protest action followed a massive march in the city of Glasgow on April 4 when thousands of people called on the Trident program to be scrapped.
Meanwhile, Defense Secretary Michael Fallon announced last week that if the Conservatives win the UK's May the 7th general election, a Tory-led government would go ahead with the construction of four new Trident nuclear missile submarines to replace the existing Vanguard-class boats.