Saudi Arabia
3,500 well-educated unemployed in Saudi Arabia: Report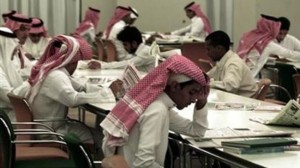 As many as 3,500 men and women holding doctorate and master's degrees from prestigious European and US universities are reportedly unemployed in Saudi Arabia.
According to English-language newspaper Saudi Gazette, the rate of joblessness among Saudi elites could triple.
The highly educated Saudis argue that no university in the country has offered them a job even though there were vacancies. They say that Saudi universities prefer foreigners to Saudi nationals without any cogent reasons.
The unemployed Saudi elites have compiled a list of more than 5,000 foreigners who are employed at various universities in the kingdom.
They maintain that authorities prevent them from taking positions already held by foreigners in violation of the constitution.
Saudi universities purportedly put conditions that are impossible to meet so as to avoid employing Saudis, and also recruit academics that do not have specializations in the respective categories.
Private companies also practice blatant discrimination against Saudis.
A Saudi company dismissed a Saudi employee recently and hired a foreigner to replace him. The company justified the act by making up stories against the man and four other Saudis, who were sacked along with him.
The sacked employee is reportedly well versed in four languages, and invented a unique device before dismissal from service. A French company later invited him for a demonstration of his device, and asked to train its employees how to operate it.
Recently, a five-member delegation — representing jobless Saudi university graduates — sought an appointment with Minister of Higher Education Khalid bin Muhammad al-Anqari.
They were eventually promised a meeting with the minister on December 15.
But later they were informed that the meeting was postponed due to the minister's busy engagements and they were not given a new date for the meeting.