Syria
38 Wanted Militants Surrender to Syrian Authorities in Hasaka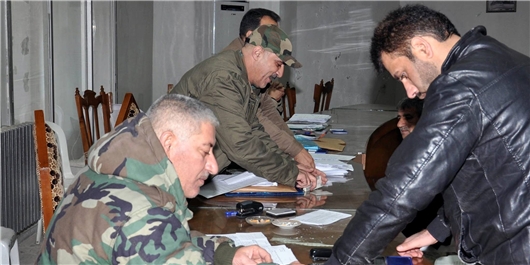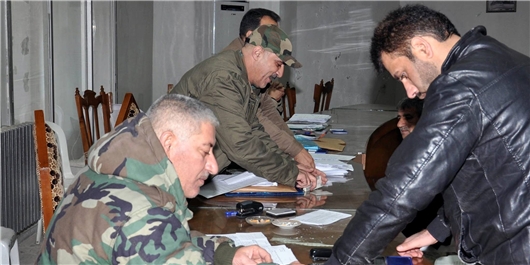 38 militants laid down their arms on Wednesday and turned themselves in to the Syrian officials as the pro-government forces keep on advancing across Hasaka province.
The militants surrendered to the competent authorities in Qamishli (a Kurdish-majority area in Northeastern Syria) in Hasaka province.
The development came after Hasaka Governor Mohammad Zaal al-Ali said that the homeland needs its people, specially in the current stage, to defend and build it.
He called on the social and local figures to play their part in communicating with wanted persons to encourage them to settle their status.
His remarks came after the Syrian army and Kurdish fighters' great victories in Hasaka province.
The Syrian Democratic Forces (SDF) and the Kurdish People's Protection Units (YPG) are continuing their advances against the ISIL terrorists in Hasaka province, inching closer to winning back a key village.
Early April, the SDF and YPG forces were verge of seizing back al-Maleha village which is located 30 kilometers to the Southwest of al-Shadadi region in Hasaka province.
The Kurdish forces are now less than 4 kilometers from al-Maleha which is located between Abu Khashb in Raqqa province and Hasaka city.
Informed military sources said that vast areas in Hasaka, Deir Ezzur and Raqqa provinces are scenes of bloody clashes between Kurdish forces and the ISIL terrorists.
Kurdish parties are already in control of three administrations in Syria's North near the Turkish border. The regions are known as Afrin and Kobani, both in Aleppo Province, as well as Jazira in Hasaka Province.
Syria has been grappling with a foreign-backed militancy since March 2011. More than 470,000 people have been killed in the turmoil, according to a February report by the Syrian Center for Policy Research.