Asia-Pacific
Korea
World News
4.18mn infected with coronavirus; China, South Korea see new emerging clusters
The respiratory illness COVID-19, which is caused by the new coronavirus, has now afflicted some 4,181,218 people and killed 282,500 others globally, according to the latest data compiled by Johns Hopkins University.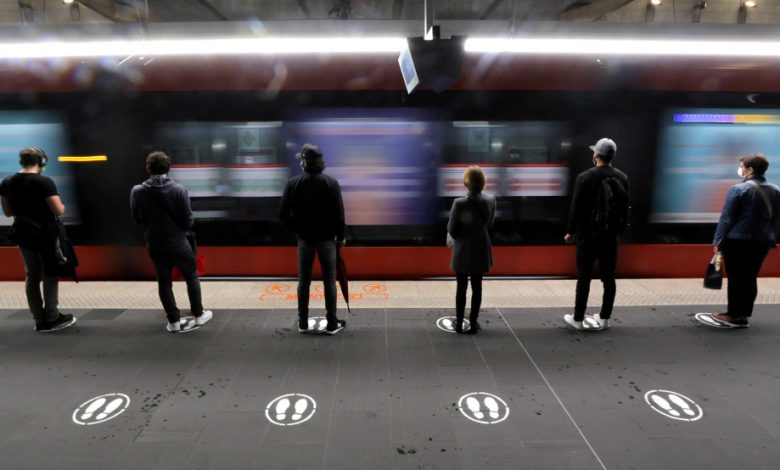 Many countries have started easing their lockdown measures, and China and South Korea have begun seeing renewed spikes in infections.
The following is the latest on the coronavirus pandemic from around the world.
China reports new cases in Wuhan
Wuhan, the first epicenter of the virus, on Monday reported the first cluster of infections since a lockdown on the city was lifted last month.
The city reported five new confirmed cases, all of them individuals living in the same residential compound in the city.
"At present, the task of epidemic prevention and control in the city is still very heavy," said the Wuhan health authority in a statement. "We must resolutely contain the risk of a rebound."
The five cases in Wuhan pushed the country's daily tally of infections on Sunday to 17 — the highest daily increase since late last month.
Mainland China's overall tally of infections now stands at 82,918, with 4,633 deaths.
China said on Friday that it would gradually reopen cinemas, museums, and other recreational venues, though restrictions, including mandatory reservations and a limit on numbers, would be in place.
South Korea tracking down thousands of suspected cases
In South Korea, officials have launched an operation to track down thousands of people and test them for COVID-19, amid a new rise in the number of positive cases.
Health official reported 35 new cases on Monday.
On Sunday, the country had registered 34 new cases, most of which were related to an outbreak at several bars and nightclubs in the capital, Seoul. Authorities said they had already tested 4,000 people who had been at the spots in the Itaewon neighborhood but were still trying to track down around 3,000 others.
"Our top priority is to minimize the spread of the infections in the greater Seoul area," Prime Minister Chung Sye-kyun said on Monday. "We should quickly find and test them," he added, referring to the individuals sought in the Itaewon outbreak.
This comes as the South Korean government has already started easing some social distancing rules and moving to fully reopen schools and businesses.
The country has recorded a total number of 10,909 cases and 256 deaths so far.
Pakistan to partially open markets
Meanwhile, Pakistan is set to allow markets and shops to open for several days a week from Monday.
Officials reported 607 new cases and eight new deaths on Monday.
The new tally pushed the total cases of coronavirus infection in Pakistan to more than 30,000 and the fatalities to 667.
New Zealand to lift almost all restrictions
Meanwhile, New Zealand has started easing most of the restrictions put in place to stop the spread of the disease.
The government will allow travel within the country to resume, and restaurants, cinemas, and shopping centers to reopen from Thursday.
Prime Minister Jacinda Ardern said schools could also reopen from May 18.
The Pacific nation reported three new cases on Monday.
That brought the country's total infections to 1,497. With no additional deaths, the fatalities stand at 21 nationwide.
New Zealand's borders would remain closed, except to returning New Zealanders.
Australia's most populous states relax shutdowns
Neighboring Australia opened its second-most populous state on Monday by easing bans on social visits, religious gatherings, and community sports.
The 6.3 million residents of Victoria, which includes the city of Melbourne, will be allowed to visit friends and family from Tuesday. This will be allowed in groups of up to five, while groups of 10 could participate in a host of community events.
Australia's most populous state, New South Wales (NSW), which includes Sydney, has also allowed limited social visits. Children in the state also began returning to school on Monday on a limited basis.
Australia reported seven new cases and no additional deaths on Monday.
An overall of 6,948 cases and 97 deaths have so far been reported in the country.
Europe cautiously emerging from lockdown
Europe is also tiptoeing out of strict lockdowns as millions of people are set to enjoy relaxations of stay-at-home orders on Monday.
France allowed people to walk outside without having to fill in a permit for the first time in nearly eight weeks on Monday. Teachers will return to primary schools, and some shops, including hair salons, will reopen, as well.
Restaurants, theaters, and cinemas will, however, remain closed. And the government has urged caution, as some regions, including the Paris area, remain "red zones." French people are also advised to work from home if they are able to do so.
France, which has the world's fifth-highest death toll, has reported a prolonged decline in the number of daily deaths. Officials reported 70 new deaths on Sunday, bringing the total to 26,380 nationwide.
In Spain, people are allowed to meet friends and family in bars and restaurants that have outdoor spaces.
Urban hotspots such as Madrid and Barcelona will remain on lockdown, however.
Spain, the second-worst-hit country after the United States, has reported a total of 26,621 deaths and 264,663 infections to date.
Italy, the first country in Europe to impose restrictions on social activities, started easing lockdown measures last Monday.
It has recorded 219,070 cases of COVID-19 and 30,560 related deaths.
Germany has also begun opening up, as shops of any size are allowed to open and schools have partially reopened for young children and those taking exams.
Public events such as festivals, however, are banned until at least the end of summer.
Chancellor Angela Merkel said an "emergency brake" will be applied to anywhere that sees a spike in coronavirus infections.
Germany has reported 171,879 cases and 7,569 deaths.
Across the continent, Russia reported an increase of more than 10,000 cases on Sunday.
That took the country's overall tally to 209,688, with 34,306 fatalities, so far.
Officials, however, said the outbreak would not reach a peak until June.
Russians are on strict lockdown, which prevents them from leaving their homes more than twice a week.