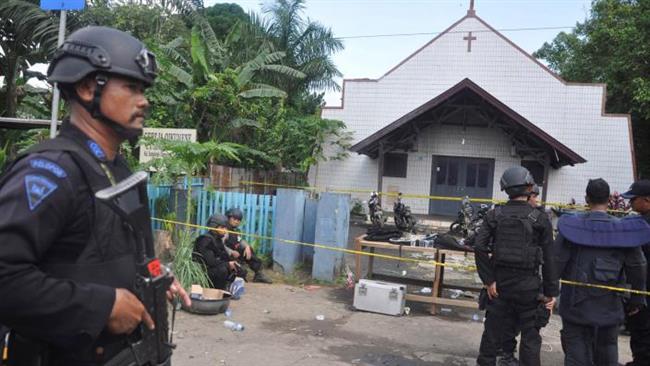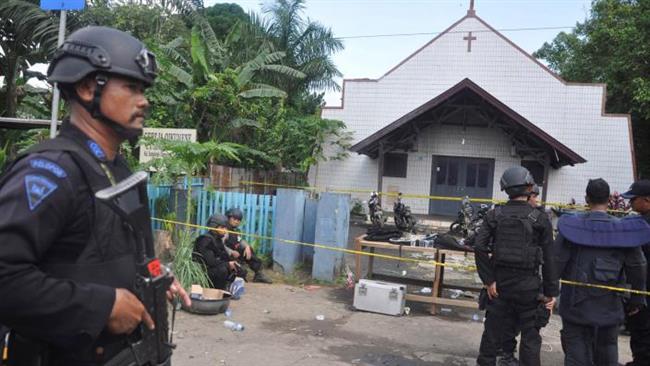 Four children have been injured in an explosion outside a church on Borneo Island, eastern Indonesia, with police arresting the suspect who allegedly launched the hate attack.   
The Indonesian Police said Sunday that the explosion took place at about 10 a.m. in the parking lot of the Oikumene Church in Samarinda, the provincial capital of East Kalimantan Province.
National police spokesman Major General Boy Rafli Amar said the four victims of the attack were children aged two to four who suffered burn injuries.
Local police officials said a man riding a motorbike set off the explosion by throwing a Molotov cocktail at the site. The man was then taken into custody after locals captured him on a boat on a nearby river, where he had sought to escape. He was shown on the TV while injured and lying on the deck of the boat. Words expressing hate for Christians could be seen on the man's shirt.
The attacker was later identified as a former terror convict from the West Java town of Bogor. The 32-year-old had previously served more than three years in jail for a 2011 terror attack. The man had moved to eastern Indonesia a year ago, national police said.
For years, Indonesia, a country with the largest population of Muslims in the world, has been grappling with Takfiri militants who mostly target non-Muslims. The government launched a massive crackdown on militant networks since the 2002 Bali bombings that killed 202 people, mostly Christians from the West.
The government of President Joko Widodo fears that increasing tensions between Muslims and Christians could play into the hands of militants. A large Muslim crowd took to the streets in Jakarta recently to demand the government sack the Christian mayor of the city, whom the Muslims accused of blasphemy.
Widodo said Sunday that he had ordered a thorough investigation into the church attack.
Indonesia has also been wary of increasing links between Indonesian radicals and Daesh, a Takfiri group based in Iraq and Syria.
The attack on Sunday was reminiscent of an attempted bomb attack on a church in August in Medan, the provincial capital of North Sumatra in western Indonesia. The incident, which took place during a Sunday Mass, left a priest injured while reports suggested that the attacker failed to detonate his explosives.