Syria
400 Terrorists to Leave Qodsiyeh Town in Damascus Soon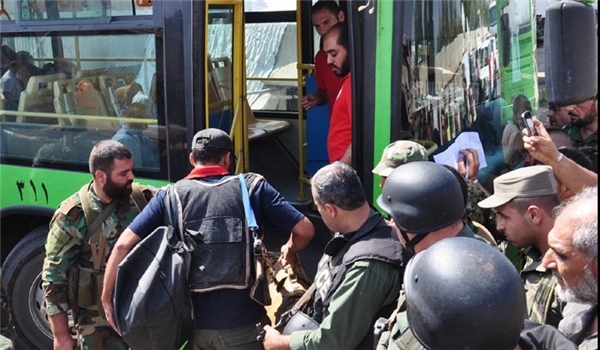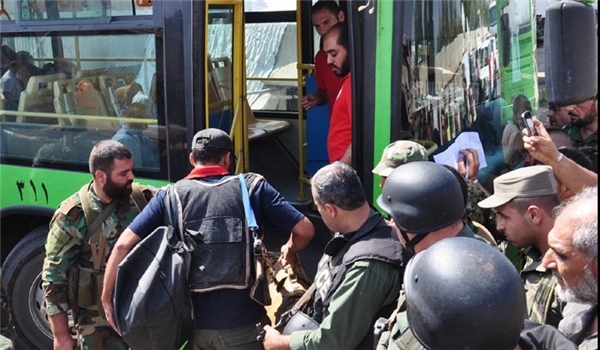 Over 400 militants along with their families will be transferred from the key town of Qodsiyeh in Western Ghouta of Damascus to the two provinces of Hama and Idlib in the next three days.
Sources in the peace committees in Qodsiya said that based on an agreement, "the terrorists who don't intend to surrender their weapons will leave the town, while others who are willing to remain in the city and will lay down their arms will be pardoned".
They, meantime, added that while the national reconciliation committees were preparing the list of those terrorists who seek to leave the two towns of Qodsiyeh and Elhameh and their families, the militants in Elhameh started clashes with the Syrian army forces.
In response to the militants' violation of the agreement to leave the town, the Syrian artillery units pounded the terrorists' positions in Elhameh, specially at the Beirut old road and Jamraya region.
At least 6,000 civilians in Qodsiyeh took to the streets on Sunday and urged anti-government militants to leave the town, local sources said.
"A major part of people in the town of Qodsiyeh poured into the streets to call on those militants, who have not joined the peace agreement with the Syrian government, to leave their town immediately," the sources said.
"Some of the anti-peace militants opened fire at the demonstrating civilians, but in a surprising move, scores of the people engaged in fighting with the terrorists and seized their weapons," the sources said.
A member of the peace committee announced on Saturday that scores of militants in two towns of Qodsiyeh and Elhameh in the Western countryside of Damascus city were getting ready to surrender to the government authorities or be evacuated to other cities across the country.
"Most of the militants in Qodsiyeh and Elhameh have agreed to lay down their arms and turn themselves in to the government officials," the source said, adding, "Some paragraphs of the peace agreement with the government is giving this chance to those militants, who do not wish to surrender, to leave the towns only with light arms to be relocated to other militant-held regions."
"Militants' leader in Qodsiyeh and Elhameh are preparing a list of fighters who want to lay down arms and join the peace plan with the government," the source said.