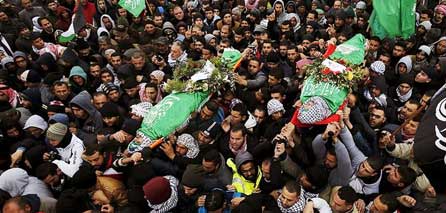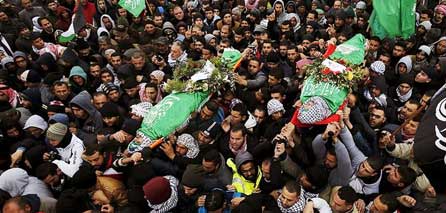 Statistical data showed that the terrorist Israeli occupation forces (IOF) had killed 45 Palestinian children since the beginning of the Jerusalem uprising last October and wounded thousands, while still detaining more than 400.
The Global Movement for the Defense of Children in Palestine, the Palestinian Network for Children's Rights, and the network of child protection, said in a joint statement on the occasion of Palestinian Child Day, that this day comes amid rising state of repression by Israel against the Palestinian people at various levels, especially against children.
The children rights organizations noted in their statement that since the beginning of last October, until today, 45 children were killed by the IOF in the West Bank and Gaza, 5 of the killed children were girls, while thousands were wounded.The IOF are still holding the bodies of the two children, Hassan Mnasrah and Moataz E'oissat, for the past five months in a flagrant violation of international law and human rights standards, the statement added.
Unjust legislation
The organizations pointed out that the Israeli occupation authorities (IOA) took advantage of the uprising to enact laws and take actions that increase its violations against the Palestinian people.
Such actions included a campaign of incitement, which resulted in the implementation of field executions against children, in addition to making changes to the Israeli legislation, especially the "Israeli Juvenile Law" to increase penalties against children, the statement said, adding that procrastination in investigating abuses against Palestinian children and promoting the culture of impunity had all contributed in inflicting the maximum harm to them.
Children prisoners
The statement confirmed that 400 children are languishing in Israeli jails, including 15 girls and 7 children who are held in administrative custody. They face various forms of violations and abuse by the Israeli occupation during their arrest or interrogation. These practices are part of a systematic Israeli policy, which leaves serious health and psychological effects on Palestinian children's future and their lives.
Gazan children doubled suffering
The report pointed out that the ongoing IOA blockade on the Gaza Strip since mid-June 2007 had led to negative repercussions on the humanitarian situation in the Strip, especially after the recent aggression on the Strip in the summer of 2014, which lasted 51 days and resulted in thousands of martyrs and wounded, including 547 children.
The Israeli aggression also led to the destruction of tens of thousands of homes partially or completely and the affected families were forced to take shelter in schools, or mobile homes (caravans) which are inappropriate places to live, especially for children, as they do not protect against the summer heat or winter cold.
The institutions called for legal action against Israel as being responsible for cases of murder and war crimes committed against the Palestinian people.
They stressed the need to end the state of division and achieve national unity, which ensures the best benefits for the Palestinian children because the division hinders their participation in all aspects of life.