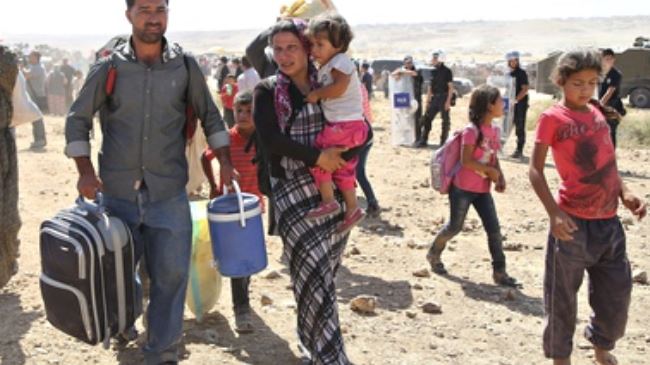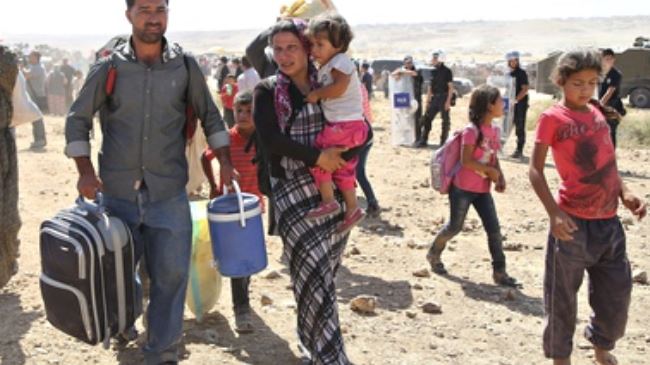 A senior Turkish official says at least 45,000 Syrian Kurds have fled their homes over the past 24 hours due to the threat posed by ISIL Takfiri terrorists.
Turkish deputy Prime Minister, Numan Kurtulmus, says the Syrian Kurds have crossed into his country since Friday.
"Around 45,000 Syrian Kurds have crossed the border as of now from eight entrance points along a 30-kilometer distance from Akcakale to Mursitpinar since we opened the border yesterday," media outlets quoted Kurtulmus as saying.
The refugee flow began as the militants took control of more than 60 villages around the city of Kobani in the Aleppo countryside of Syria over the past three days.
Meanwhile, the so-called Syrian Observatory for Human Rights (SOHR), which is based in London and opposes the Syrian government, says clashes are still underway between Kurdish forces and the ISIL militants in northern Syria.
Sources say Syrian Kurds have killed at least 18 militants, including a Chinese national.
The President of Iraq's Kurdistan Region Massoud Barzani has urged the international community to use all means to protect Kobani as soon as possible.
Tensions are rising between Iraq's semi-autonomous Kurdistan Region and Turkey over Ankara's refusal to support the Kurds in their fight against the ISIL Takfiri group.
The ISIL Takfiri terrorists currently control parts of eastern Syria and Iraq's northern and western regions. They have committed heinous crimes and threatened all communities, including Shias, Sunnis, Kurds, Christians and Izadi Kurds, during their advances.
The West and its regional allies, including Qatar, Saudi Arabia, and Turkey, are reportedly giving financial and military support to the militants.