Indonesia
6.1-magnitude quake shakes Java in Indonesia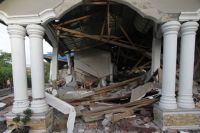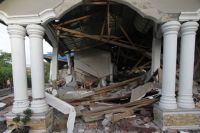 An earthquake measuring 6.1 on the Richter scale has struck off the shore of Indonesia's main island of Java.
According to Press TV,, the US Geological Survey (USGS) says the quake hit 39 kilometers (24 miles) south-southeast of the coastal town of Adipala in Central Java Province at the depth of 83 kilometers on Saturday.
Indonesia's Meteorology and Geophysics Agency put the preliminary magnitude at 6.5, but said it had no potential to trigger a tsunami.
Sutopo Purwo Nugroho, a spokesman for the National Disaster Mitigation Agency, said the quake rocked the southern coast of Java for 30 seconds, sending people fleeing houses and office buildings.
According to Nugroho, the quake damaged several homes in the southern part of Central Java.
Indonesia is vulnerable to earthquakes since it is located on the Pacific "Ring of Fire," a region known for its seismic and volcanic activity caused by friction between shifting tectonic plates.
Last July, a 6.1-magnitude quake struck the Aceh province on Indonesia's western Sumatra Island, killing at least 35 people and left thousands homeless.
In December 2004, a strong quake off the shores of Indonesia triggered a tsunami that killed 230,000 people in 13 countries around the Indian Ocean. Most of the deaths were in the northern Indonesian province of Aceh.