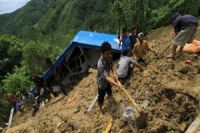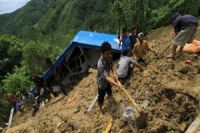 An official says a landslide caused by heavy rains has killed six people and left 18 others unaccounted for on Indonesia's Java Island.
National disaster management agency spokesman Sutopo Purwo Nugroh said: "Six people were found dead and 18 people are still buried" in West Bandung district early on Monday.
The official added the landslide also destroyed nine houses in the district.
Floods and landslides have repeatedly battered Indonesia in recent years during its wet season.
Last month, at least 13 people were killed and hundreds forced to leave their homes after landslides and floods triggered by torrential rains hit North Sulawesi province's capital city of Manado.