Economy
North America
Saudi Arabia
60th anniversary: Saudi-led OPEC now doing US bidding
With Iran and Venezuela sidelined in OPEC under sanctions, Saudi Arabia has shown it would rather guarantee US interests through the oil grouping than risk losing American support, current and former OPEC officials say.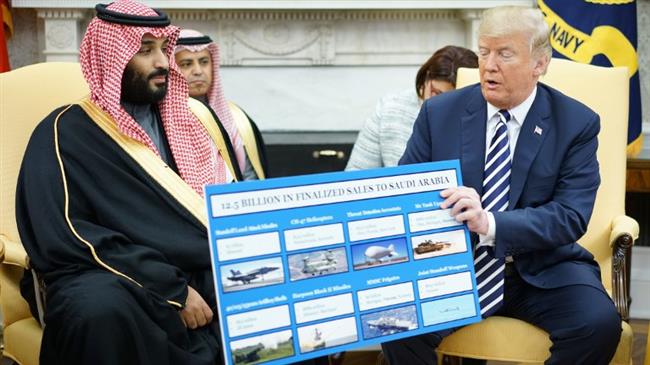 OPEC is marking its 60th anniversary and today (Monday) is the day oil ministers from Venezuela, Saudi Arabia, Kuwait, Iraq and Iran gathered in Baghdad in 1960 to found the group to counter the colonial power of seven US and British oil companies.
This was a historic moment which would transform the oil industry and oil markets, where the countries owning the minerals did not benefit commensurately from the riches which belonged to them and their people.
The founding resolutions stipulate that member countries study how to stabilize prices "by the regulation of production, with due regard to the interests of the producing and of the consuming nations and to the necessity of securing a steady income to the producing countries."
That was how in 1973, Arab members of OPEC brought the US economy to its knees when they imposed their famous oil embargo as retribution for American support for Israel during the Yom Kippur War.
OPEC as a bloc also resisted US pressure to tamper with market prices for decades, notably in 2011 during the uprising against Libya's Muammar Gaddafi, but its record over the past three years has largely been one of capitulation – only under the Saudi domination.
Saudi Arabia and other like-minded OPEC members have repeatedly yielded to pressure from Washington to pump more oil since US President Donald Trump took office at the start of 2017.
Trump has regularly called on Saudi rulers to ensure lower gasoline prices to help him win over US consumers.
"And when prices got too low for US drilling companies to make money this year, OPEC hashed out a deal to bring them back up slightly, in an agreement spurred on by Washington's threat to reduce its military backing for Riyadh," Reuters said Sunday, citing sources which it did not identify.
"Trump orders from Saudi Arabia what he needs for the oil price – and he is served," Chakib Khelil, who was Algeria's oil minister for a decade and OPEC's president in 2001 and 2008, told the news agency.
"So indeed OPEC has changed," Khelil stressed.
OPEC weakened amid sanctions on Iran, Venezuela
Saudi Arabia has been the leading OPEC producer for decades, giving it the biggest sway over policy, but the US sanctions on Iran and Venezuela have only increased its domination much to Washington's delight.
Trump has developed a close relationship with Saudi Arabia's de facto ruler Mohammed bin Salman or MBS who relies on the US for weapons and protection.
According to a forthcoming book detailing a veteran journalist's interviews with Trump, the US president bragged that he had protected MBS from congressional scrutiny after the brutal murder of journalist Jamal Khashoggi two years ago.
Trump also boasted about how much Saudi Arabia relied on the United States, saying that the country "wouldn't last a week if we're not there, and they know it".
That reliance, however, comes with an exorbitant cost and Saudi rulers are always amenable to paying that.
In 2018, as oil prices spiked over $70 a barrel, a level Washington viewed as too high for US consumers, Trump thundered with a barrage of tweets directed at Saudi Arabia.
"Oil prices are too high, OPEC is at it again. Not good!" he tweeted on June 13, 2018, nine days ahead of an OPEC meeting.
As OPEC gathered in Austria on June 22, Trump wrote: "Hope OPEC will increase output substantially. Need to keep prices down!" Later that day, OPEC agreed to raise its output by a million barrels a day.
Two OPEC officials, cited by Reuters, said a Trump intervention on oil prices effectively nudges the Saudi-led organization to discuss or even adjust its production policy.
Earlier this year, Trump wanted something new from OPEC: a production cut, to help US oil companies make money.
According to Reuters, Trump gave Saudi leaders an ultimatum as the United States pressed Saudi Arabia to end its oil price war with Russia.
The threat to upend a 75-year strategic alliance was central to the US pressure campaign that led to a landmark global deal to slash oil supply, scoring a diplomatic victory for the White House, the news agency said.
"Just spoke to my friend MBS (Crown Prince) of Saudi Arabia, who spoke with President Putin of Russia, & I expect & hope that they will be cutting back approximately 10 Million Barrels, and maybe substantially more which, if it happens, will be GREAT for the oil & gas industry!" Trump tweeted on April 2.
"In sum, OPEC does not make decisions anymore on what is best for its members economically, as it is supposed to according to its statutes," Algeria's Khelil said.
Reuters cited Iran's former OPEC governor Hossein Kazempour Ardebili telling the news agency in 2018, when OPEC+ had just raised output following pressure from Trump, that both OPEC and the broader group had begun acting against the interests of their smaller members.
"They gave an oil price gift to Trump while inflicting revenue loss on all OPEC members," he said.
Even so, most members are unanimous in keeping the organization in one piece, believing that OPEC's old good days will come back.
"It's important to be a member of OPEC or OPEC+ so that you can maximize your interests," Reuters quoted what it called a source familiar with Iran's oil policy as saying.