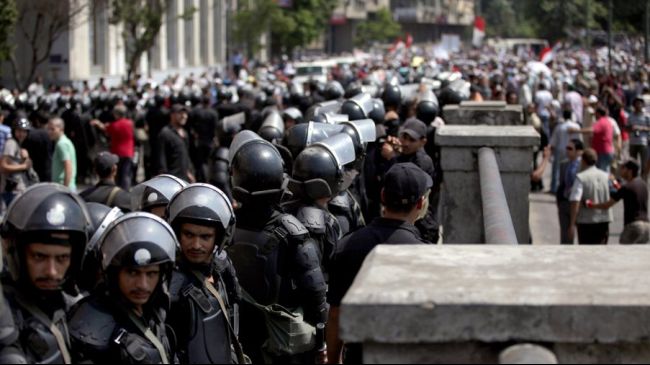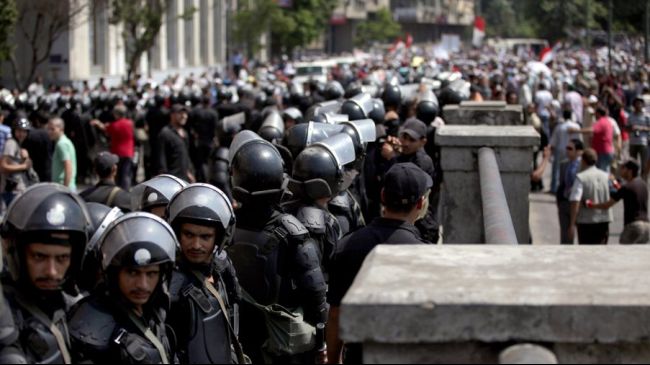 Seven people are killed and several others injured so far, as supporters and opponents of Egypt's ousted president Mohamed Morsi clashed in Cairo.
Medical officials said that at least another three people were killed and dozens injured in the capital's Nasr City and the city of Giza, bringing the death toll to seven.
The clashes broke out on Monday after several hundred pro-Morsi protesters marched towards the US Embassy to stage a demonstration against alleged American interference in Egypt's domestic affairs.
Morsi's supporters passed an entrance to Cairo's iconic Liberation Square, manned by the opponents, while pelting each other with volleys of stones and birdshot. The violence left four people dead and 26 injured.
Police fired teargas in a bid to disperse the clashing demonstrators. The protests reportedly erupted near the British embassy as well.
Earlier in the day, Morsi's family said they plan to sue the military for having "kidnapped" the elected president.
"We are taking local and international legal measures against Abdel Fattah al-Sisi, the leader of the bloody military coup, and his putschist group," Morsi's daughter Shaimaa Mohamed Morsi told a news conference.
Morsi's son Osama also said the family had not heard from him since his ouster. The family said it held the army responsible for "the health and safety" of Morsi.
In a televised speech late on July 3, Egyptian army chief General Abdel Fattah al-Sisi announced that Morsi, a former leading member of the Muslim Brotherhood, was no longer in office and declared that the head of the Supreme Constitutional Court, Adly Mahmoud Mansour, had been appointed as the new interim president of Egypt. The army also suspended the constitution.
Over 100 people have been killed in an unrelenting wave of violent clashes between Morsi supporters, his opponents, and security forces since the president was ousted by the military and put under "preventive" arrest.