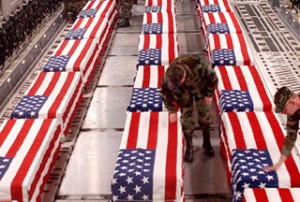 Seven NATO soldiers including four French troops have been killed across Afghanistan, marking yet another deadly weekend for the foreign forces there.
The International Security Assistance Force (ISAF) said in a statement on Sunday that three of its members were killed in southern Afghanistan during 'enemy attacks', while another three died in the east from 'non-combat incidents' in the past 24 hours.
On Saturday, two US soldiers were fatally wounded in separate incidents in southern Afghanistan and later died, ISAF said.
Meanwhile on Sunday a roadside bombing in the country's volatile southern region claimed the life of yet another British soldier, UK's Ministry of Defense said.
Reports indicate that on Sunday, three French soldiers were also killed by a violent storm in eastern Afghanistan.
The storm, which blew up suddenly, struck a 250-man operation, as it was moving through the Afghanya Valley, east of the capital Kabul, in a pre-dawn raid against suspected militants.
One soldier was killed by lightning and two others were drowned.
The French military later added that still another soldier died this past weekend when his armor-plated car fell into a ravine in the Surobi district. Five other French soldiers were injured in the same incident.
This year has been the deadliest for foreign troops in Afghanistan since US forces ousted the Taliban in the wake of the 9/11 attacks.
Some 377 foreign soldiers, including 220 Americans, have died so far, with 294 killed in 2008, according to an AFP tally.
Violence continues to claim lives in the war-ravaged country eight years after US-led coalitions forces invaded Afghanistan under the pretext of destroying the militancy and arresting insurgent leaders.
No main militant leaders have so far been arrested or killed.
The main victims of the infamous war have been Afghan civilains.