Egypt
Middle East
700 Egypt Brotherhood Supporters in Court after Mass Death Sentences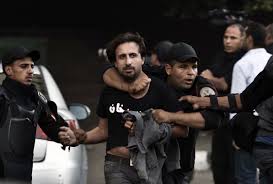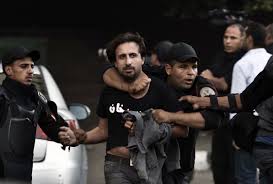 An Egyptian court that sentenced 529 people to death began trying about 700 more supporters of deposed President Mohammed Mursi on Tuesday, including the leader of his Muslim Brotherhood movement.
Lawyers said they would demand the judge step down after he handed down the unprecedented death sentences on Monday in a court in the southern province of Minya after only two hearings.
Legal experts said the unprecedented sentences are likely to be overturned on appeal.
The roughly 1,200 defendants in Minya are accused of the murder and attempted murder of several policemen during riots on August 14, as police killed hundreds of Mursi supporters when dispersing two Cairo protest camps.
Mohamed Badie, the Muslim Brotherhood's supreme guide, is among the defendants who are expected in court on Tuesday. He faces several other trials that could also result in the death penalty.
Monday's death sentences drew criticism from rights groups, the United States and the European Union, which questioned the fairness of proceedings against so many defendants lasting just two days.
Legal experts said the shock verdict would likely be overturned on appeal because the court had rushed the trial without following the required procedures.
Egypt's army-installed interim government has defended the court's handling of the case, insisting that the sentences had been handed down only "after careful study" and were subject to appeal.
Of the 529 sentenced on Monday, only 153 are in custody. The rest were tried in their absence and will get a retrial if they turn themselves in.
Another 17 defendants were acquitted.
EU foreign policy chief Catherine Ashton urged Egyptian authorities to grant defendants "the right to a fair and timely trial".
Defense counsel Mohamed Tousson charged that the judge had rushed to sentencing on Monday after being angered by a lawyer's request for his recusal at Saturday's opening hearing.
"He got very angry, and adjourned the trial for sentencing," Tousson said. "It's a huge violation of defendants' rights."
The foreign ministry defended the judiciary was "entirely independent and is not influenced in any way by the executive branch of government".
Mursi is himself currently on trial in three different cases. The army removed Egypt's first freely elected president after a single year in power following mass protests demanding his resignation.