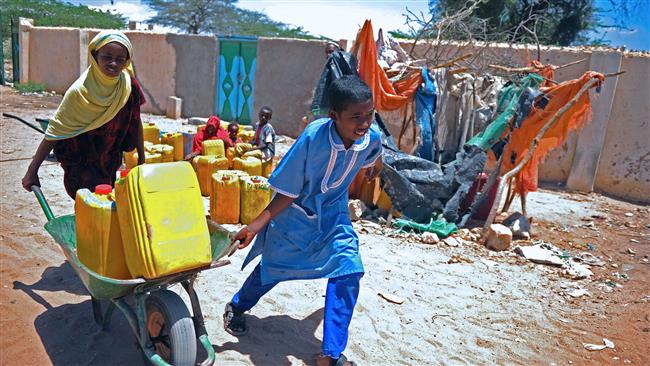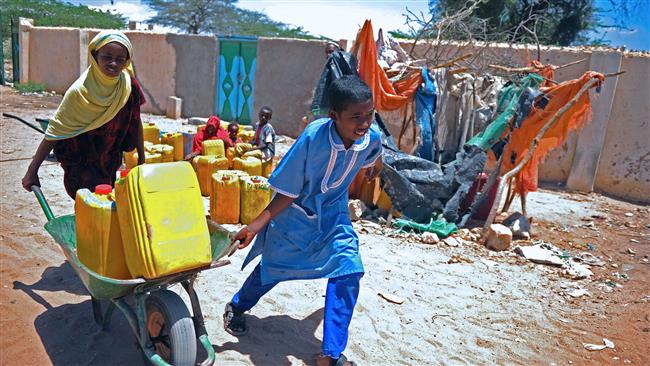 A United Nations official says some 7,000 Somali refugees in war-torn Yemen have fled back to their country since Saudi Arabia started pounding the impoverished Arab country in late March.
The refugees have joined the 10-million-plus Somali population, of whom, according to the UN, a large number are in grave need of their basic necessities of life, including food and medical care.
The humanitarian situation "remains alarming" in the Horn of African country, whose northern border lies on the southern coast of the Gulf of Aden, said Nicholas Kay, the UN special representative for Somalia, on Tuesday.
Saudi Arabia's military aggression against Yemen, which began on March 26 without a UN mandate, triggered the displacement of more than half a million people.
The airstrikes are aimed at undermining the Houthi Ansarullah movement, which currently controls the capital, Sana'a, and major provinces, and to restore power to Yemen's fugitive former President Abd Rabbuh Mansour Hadi, who is a staunch ally of Riyadh.
The photo shows a Yemeni boy standing amid the rubble of houses destroyed in a Saudi airstrike on a residential area in the capital, Sana'a, May 18, 2015. © AFP
According to the UN High Commissioner for Refugees (UNHCR), an estimated 545,000 people have been displaced in Yemen in the wake of the Saudi-led aggression.
Escalating violence feared
Kay also warned the United Nation Security Council (UNSC) that the threat of an escalation in the activities of the al-Qaeda-linked al-Shabab militant group during the refugees' return must be tackled with vigilance.
"We need to monitor closely and be able to respond to any sign that al-Shabab is benefiting from their links to" Takfiri militants in Yemen, he said.
On Monday, UN Secretary General Ban Ki-moon warned that Saudi Arabia's war on Yemen could pave the way for Takfiri militants through Somalia, threatening the security of the whole region. Ban was quoted by the Associated Press as saying that "the crisis in Yemen has the potential to further destabilize the region and open a corridor" for Takfiri militants through Somalia.
Back in April, Somali Prime Minister Omar Abdirashid Ali Sharmarke had warned of Takfiri militants who could use the cover of fleeing refugees to penetrate the country, which has been the scene of deadly clashes between government forces and al-Shabab since 2006, and called for strict checking of new arrivals to curb Shabab's attacks.
The militants have been pushed out of the capital of Mogadishu and other major cities in the country by government forces and the African Union Mission in Somalia (AMISOM), which is largely made up of troops from Ethiopia, Uganda, Burundi, Djibouti, Sierra Leone, and Kenya.