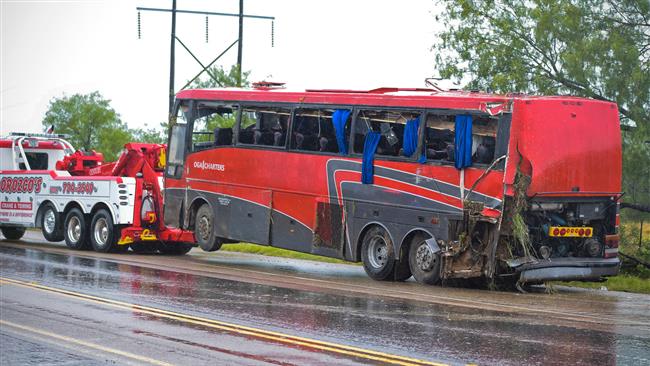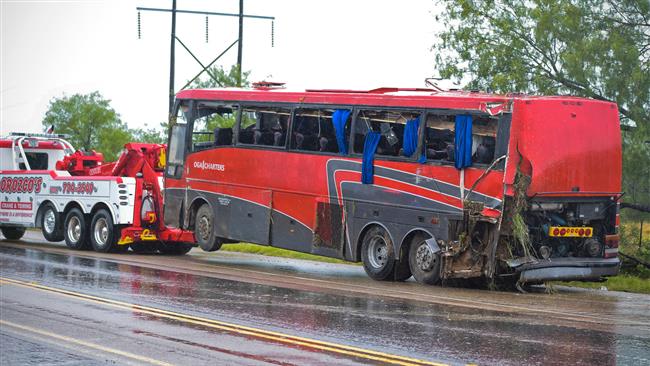 Eight people have been killed and 44 have been injured after a charter bus flipped over on a highway in Texas, according to the state Department of Public Safety.
The crash happened Saturday around 11:25 a.m. in Webb County near the border with Mexico, DPS Trooper Conrad Hein said.
The bus, owned by OGA Charters, was carrying 51 passengers to the Kickapoo Lucky Eagle Casino Hotel in Eagle Pass.
The bus was traveling north on Route 83 and went off the road about 42 miles north of Laredo after the driver lost control, causing the bus to roll over on a flat stretch of road.
It was raining when the crash happened, but the cause of the accident is still under investigation.
Seven people died at the scene and another was taken to the hospital, where he was later pronounced dead, said Webb County spokesman Larry Sanchez.
Texas Governor Greg Abbott and his wife issued a statement to express their condolences.
"Cecilia and I extend our deepest condolences to those affected by the tragic accident in South Texas today. I ask the entire State of Texas to keep the families of loved ones lost today, as well as the Webb County community, in its thoughts and prayers during this difficult time," the statement reads.
The incident is one of the deadliest bus crashes in Texas in the last several years.
In January, 2015, two prison guards and eight inmates died after their prison bus hit a piece of displaced highway guardrail west of Odessa.
The bus struck a Union Pacific freight train that happened to be passing underneath the highway.
In another incident, seventeen passengers were killed in 2008 near Sherman when their bus plunged over a highway bridge on their way to Missouri.