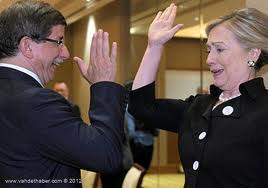 The contradictory policy of Turkish government makes Turkish community feel extremely confused nowadays.
First step that leads controversy on Erdogan government's policy was the missile shield that overtly aimed to protect Israel from Iran's missiles. The missile shield was set up in Malatya eastern province of Turkey.
The next step that weakens Erdogan's 'one minute' argument was Syria policy in which the government took position with the western and USA-Israel block. The government's policy was harshly questioned for the fact that the relations with Assad government were excellent just before several months.The government was criticized for supplying arms and missiles for rebels who destroy Syrian territories and kill Syrian civilians.
The other reason that prevents clarification of Erdogan government's real intention was Gaza policy. The community found a prime minister who always shout with anger but does no action except sustaining secret talks and trade engagements with the Zionist government.
The NATO delegation is now in Malayta eastern city of Turkey to test sites for Patriot batteries which will protect(!) the border of Muslim Turkish society from Syrian Muslim nation that can be defined as a unite family due to marriages on both sides of the border.
Turkish Prime Minister can be defined as the first leader to put two Muslim countries in war position in a few months. Despite strong opposition the government stepped up to deploy the Patriot batteries against a Muslim country and the confusing question that interrogates Erdogan's real intention comes out.
How can a Politician dare to deploy west's missiles to hit a Muslim Syrians on the borders of Muslim Turkish country?
30 NATO Experts Delegation Came to Malatya City( East Turkey Province)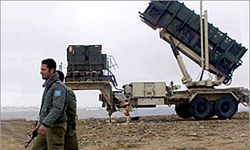 NATO Expert Delegation will begin testing sites on which to deploy Patriot missile batteries near the Turkish – Syrian borders.Members are from U.S, Germany and Neterlands. The plane carrying the delegation landed to 7th Main Jet Base Command of Erhac Airport then the delegation were escorted by 6 police vehicles.
The NATO delegation will test 10 cities after Malatya city. Adana, Hatay, Gaziantep and Sanlıurfa are among the cities they will test and they are expected to carry on these searhes for 10 days. Turkey want 6 Patriot missile batteries near the Turkish- Syria borders.
Stinger Missile System Set in Ceylanpınar in Sanlıurfa( Turkey) city
During NATO delegation visit to the Syria- Turkey border, the stinger Missile System set in Ceylanpınar province in Sanlıurfa City in Turkey. Beforehand lots of Armored Vehicles, Launcher were deployed to the Akcakale and Suruc provinces in Sanlıurfa. The Stinger Missile System also set in Atesoglu Border Police Station. The sistem is reinforced with some missile system and radar system.