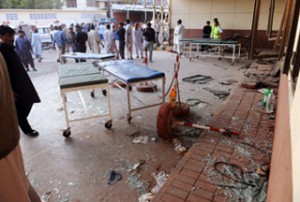 Pakistani security forces have reportedly arrested the suspects behind the recent twin bombings in Karachi that left more than 30 people dead and scores injured.
The Pakistan Rangers, a paramilitary group, said in a statement that the security forces had placed 95 people in custody after raids on Karachi-based residences, hotels and guesthouses, a Press TV correspondent reported late Monday.
The forces also seized ammunitions belonging to those arrested, the statement added.
On Friday, an explosion in the Pakistani commercial hub ripped through a bus carrying a group of Shia pilgrims. The incident occurred as the victims were heading for a religious ceremony marking the 40th day after the martyrdom anniversary of Imam Hussein (PBUH).
Another blast hit a hospital in the city that was receiving the casualties from the explosion.
More than 10,000 Pakistanis gathered the following day in the city to commemorate the dead.
During the two incidents, 34 people died and at least 170 suffered injuries.
Over the past two years, some 3,000 people have died in bomb attacks and other militant operations throughout Pakistan.