Syria
A father's heartbreak as his daughters leave Norway to join jihad in Syria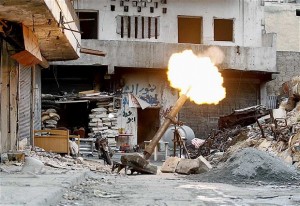 Source: Breaking News Network
The father of two Norwegian sisters who said they were leaving to wage jihad in Syria has told the Telegraph of his heartbreak as his daughters have now "been seen" with the rebels.
As he learned of the their plan, the father rushed to the Turkish border with Syria, hoping to catch his daughters, aged 16 and 19 and of Somali origin, before they crossed into the war-torn country.
But late on Thursday night, activists from Azzaz, a town in Syria close to the Turkish border that is controlled by a branch of al-Qaeda, seemingly confirmed the worst, saying they saw two girls matching the sisters' description "get in a car and drive away towards [the rebel held city] Aleppo".
"My daughters! You saw my daughters?" said the father, whose identity is not being disclosed for his own safety, his voiced tinged with desperation as he spoke, in the presence of The Telegraph, on the phone with the Syrian activist who delivered the news.
"I saw war in Somalia for seven years. I know your condition; I see what you see, I feel what you feel," he pleaded with the activist. "But please, I am a broken hearted father. If you hear or see anything, please tell me".
Earlier this week Oslo launched a global hunt, mobilizing Interpol to look for the girls as one of them is a minor. The identity of the family has not been made public for their protection.
The family first heard of the two sisters' intentions one week ago via email, which said: "Muslims are currently under attack from all fronts and something needs to be done. We want to help the Muslims, and the only way to do so is to be with them in their pains and their joy."
Speaking from the Turkish town of Antakya, the father looked lost, frightened and confused:
"My daughters are beautiful girls," the father told The Telegraph from the Turkish town Antakya. When asked whether he suspected that his girls had been affected by the situation in Syria he shook his head and clicked his fingers: "One day they just vanished".
For years this moderate Muslim family lived a calm life in Norway. The girls were both students and seemed happy, he said.
However, in recent months the older sister had become more conservative in her practicing of Islam. She reportedly started to wear a full black niqab, covering her head, body and face in public.
Some local activists in Syria said they feared the girls may have come into online contact with some of the foreign jihadists now fighting in Syria, and been lured by them to "join the jihad".
"This has happened many times before," said Ahmed, one local activist in touch with foreign fighters who have come to fight for al-Qaeda in Syria.
"A woman would not be allowed to fight on the front line; for women they interpret jihad to mean they must cook and clean, and sometimes have intercourse with the fighters".
Since arriving in Turkey, the father has been able to speak once to his daughters: "They said: 'forget it dad, it is too late," he said.
The father held his head in his hands: "I have not slept for four days, and I will not sleep until I bring my daughter's home. If I have to go to Syria, I will go there to find them".